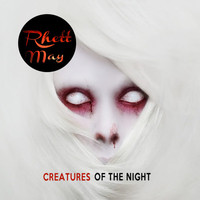 I've had the pleasure to work with Rhett May many times over the years and his Classic Rock & Indian roots are what truly shape him as an artist. Rhett is relentless when it comes to perfecting his music/sound and I can honestly say I have heard the sharp transformations and swift adjustments just over the last five years alone. Rhett May's latest album, 'Creatures Of The Night', just may be his best work to date and I'm not just saying that.
Right away when you look at the cover, you will see a scary, ghostly face with all white hair, no eyes but a shade of blood red around the eyes and under the nose. It catches your attention right away with the creepy image and pulls you in immediately as a viewer. So I first have to give props for the catchy imagery that made me think of ghosts right away and couldn't help but think of the line from Metallica's "Enter Sandman" where James Hetfield shrieks out "It's just the beast under your bed". You get that vibe right away visually from the Cover Art and with the title 'Creatures Of The Night' I'm wondering what sort of "beasts" and creatures is Rhett May cooking up here.
The record includes 13 tracks and each song completely different from the next including a wide array of musical elements showing off Rhett May's versatility. So, in a sense it is scary good how many different styles and sounds Rhett experimented with here while making it all mesh perfectly. The album opens up with a cool, 80s up-tempo beat and rad retro sensation that instantly grabs you. The song is "Somebody's Watching You" and I thought this was really neat because I can't say I've heard Rhett battle 80s tunes yet and didn't know it was part of his musical arsenal so was a refreshing start to say the least. The next track is "Back Seat Of My Chevy" and man what a catchy rock melody heard here that gets you all jacked up! The guitar playing is impressive and the real driving force on "Back Seat of My Chevy". The title track is up next and stays true to the name "Creatures of the Night" where you get a warped mystique and cloudy shadows of mystery that have you looking behind your shoulder to see what's lurking around. Track four, "Latex Lady", is next and right away the bass line pops out at me with Rhett truly having fun here vocally. The vibe is one that is edgy and playful on "Latex Lady" where you just pick up on a let loose attitude type of feel. "Kiss Your Mama With That Mouth" comes on and all I can say is that this song personifies classic rock and is just so musically vast which is why it's one of my favorite tracks on the album. Staying in line with the Classic Rock genre, "Sandy Sweet As Candy" doesn't disappoint as the listener will hear an AC/DC, George Thorogood-like guitar riff and the vocals are a very interesting mix that can best be described as a little Ian Gillan of Deep Purple, Alice Cooper and Tim Curry from "Rocky Horror Picture Show". Going away from Classic Rock, Rhett decides to switch it up and take you on a voyage through space & time on "Space Between Breaths". The sound is musically deep and the song has a strong presence that stays with you from beginning to end. Rhett May heads back to India on "Elixir Of The Gods" where his Indian roots are shining through once again. This is a sound I have been accustomed to hearing from Rhett May with past tracks like "Cute Calcutta Boy" and "I Am Everywhere" where the Indian influence is heavily infused. On "Elixir Of The Gods" one will also hear a tribal beat and make you feel like you're in a distant land of pure wonder. This song also has a meditative quality where peace and tranquility are in full effect. I also couldn't help but think of a catchy number from Aerosmith called "Sweet Taste of India" where India's full-bodied sweetness is heard loud & clear on "Elixir Of The Gods". Moving along we have "Sing For Me" where you get a spiritual chant of sorts at the end and simply it's just Rhett May singing to the stars on this one. Track 10, "Lexxi McCoy" is just a badass song with no rules and a place where anything goes. Rhett brings it back and unwinds a bit on "Symphony Of Sorrow" where you get an extremely sensitive approach but with a beat & melody that sticks to you like Gorilla Glue. And also like to add that I sensed a little bit of a Simon Le Bon vocal styling on "Symphony of Sorrow" where Rhett May appeared to be channeling his inner Duran Duran or at least I thought so. Song 12, "Bella My Baby", is just a rowdy raucous of a good time and I even think Hank Williams Jr. would sit well with this track or better yet stand & shout. Rhett May decides to end on an unexpected note but a welcoming one for me with "When We Make Love". The listener will receive a jazzy tempo and back beat here with smooth piano playing and throw in rocky, poppin' crooning to top it all off. I thought this was a brilliant way to end the album because it showed off a new side to Rhett May I didn't even know existed. Ending with a song that's not commonly part of Rhett May's repertoire shows his true artistry while at the same time nailing it. "When We Make Love" proves that there is much more than meets the eye when it comes to the Rhett May brand and I couldn't be happier to experience this.
After hearing 'Creatures Of the Night' in its entirety, I am fully convinced that Rhett May and his music are alive and well. Just like Dr. Frankenstein brought a monster to life, Rhett has also awakened a newfound spirit within himself that is about to boil over and heat up the masses. I honestly feel that Rhett May has opened new doors here and has given himself exciting opportunities when it comes to his music having a fresh voice. Rhett took chances on this record but it paid off big-time where Rhett wasn't afraid to try new things and experiment. The result is a fantastic and vibrant mix of styles that blend together like surf 'n' turf where you're getting the best of all worlds from Rhett May.
Rhett wrote all the songs on this record and it was recorded in Melbourne, Australia where he resides. You can also check out the music video for "Creatures Of The Night" right here for a frightfully good time:
https://www.youtube.com/watch?v=V7Toz_owDXw
But don't forget to grab a copy of the full album because "Creatures Of The Night" will blow you way and leave you wanting more from Rhett May. I'm scared to think what Rhett will stir up in his laboratory next because 'Creatures Of The Night' is a clear indication that you haven't heard the last of Rhett May so…be on the lookout and don't be afraid to take a chance on this musical beast.
5 Skopes
By Jimmy Rae (jrae2@att.net)