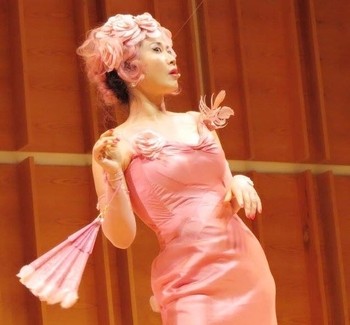 It is without a doubt performer/designer Princess Long Long is a legend in the making. She has made amazing strides, not only with her exquisite voice but with her fashion sense. Since her debut at the Royal Italy's Carnival Fashion Presentation in 2016 where she won first prize she has been unstoppable. Only recently did she put on a riveting show at the Merkin Concert Hall in the Kaufman Music Center.
Prior to that performance she was the first Asian artist to perform at the Cannes Film Festival. During her time at the festival she was invited to perform by the organizer Make It Happen Entertainment in Hollywood. They discovered her talent via her stunning performance at the 2017 Couture Fashion Week. This event caught the eye of the Cannes organizers and they contacted Princess Long Long to come grace them with her talent.
Long Long has a rich history of her own. Her name means 'dragon" in Chinese. The family originated from YanQi which runs through the famous Silk Road which links the East to the West. She developed the image "East Dragon Princess" since she inherently believes she is on a global mission of carrying on her task spiritually via her blood line. Her dream is to spread the hope of lasting "Peace and Prosperity".
She put on a special show for the celebrities and fans alike that dazzled them. It was a performance that was taken up a notch as she explained it to us.
"Yes; I planned on performing three different songs in three different languages. Initially, I sang a classic French Opera but I altered it into an advanced version, mixing jazz, waltz and Broadway styles together. I performed this piece and won the No.1 China Central TV show; Ave of Stars in 2015 for North America. Then I sang a famous Chinese piece called "Shanghai Night" in Chinese and English followed by La Vie en Rose in French, English and Chinese. My performances encompassed a mixed production of diversity Cultures/languages, of diversity in styles/forms and diversity of times/ages. I believe that it is important to see, hear, and feel all of these at once. It is necessary to have an overall enjoyment of the arts through all of our senses, also because we have now entered an era of graphic arts, an age of globalization and a time of advanced technology/ information exploration. The key is too organically and successfully make various art forms as one. I think that as an artist you know how to create beauty in all aspects; the core of the artist is to create rather than duplicate or follow."
For Long Long it was one of the most important performances of her career. She has made a mark in the arts in so many ways. The Cannes Film Festival was definitely a dream come true for her. Long Long has harped on the fact that she has always held the Focus Film Society in high regard for their devotion to diversity and culture and how they fuse the two. She also acknowledges the value in cross-cultural communication at the event.
Long Long has also taken the stage in an Off-Broadway production entitled "Whatever Happened to Beverly Daniels?" In addition she was the first Chinese singer to open the 4th Winter Film Awards NYC. She is not only a designer and singer but a writer. Long Long penned her own work called "Moon Goddess" which she will be exposing to the world very soon. In the near future she is slated to appear at the royal club (MCCC) in Monaco and Wiener Konzerthaus in Austria.
Princess Long Long is a stunning and talented artist who has made history in Cannes and is still paving more inroads of East meets West. Who better to plant that seed than an artist of spiritual dragon blood.
by Nick Christophers