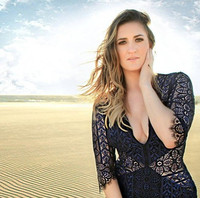 Up and comers some can make it while others just lack it. In the case of Linsey Harper, she has shared the stage with the likes of Michele Bublé, Katy Perry, Justin Bieber, Bruno Mars, and Adam Lambert, among many others. Plus has made an appearance on The People's Choice Awards, Ellen DeGeneres, Good Morning America, and Jimmy Fallon. So with all such luck and publicity doing her right not wrong why is she not more known amongst the unknown of the music scene. Well again some can make it while others cannot make it. This does not mean Lindsey is not a bad artist but a good artist very good. In fact she has spent time writing and recording for her latest EP "New Game". So all of the publicity she has received has paid off and so has this release.
"New Game" kicks things off with the title track, opening it up you get a glimpse into the style that has been capturing all who has heard Lindsey's work past and present which is pop music. Not your average typical pop music like Lady Gaga's style of sound but more of her own style that is Lindsey Harper. It is shall we say upbeat, catchy, interesting, and just again unique. The next track off this EP is one called "Love In All The Right Places". This track is more laid back, sort of like a ballad but only slightly so. It takes the pop tune but places it on the acoustic front, guitar and all. So it is stripped down material but it works so well. Guitar work used upon it alone is really outgoing, vocalization is top notch quality, really grooving to the flow of it all really. It becomes a track you can enjoy at any time of day.
Another track that tends to stick out for the "New Game" EP would be one called "We Are All The Same", this one really taking the direction that is a ballad track. It uses piano tactics, guitar work done in acoustic form, with such soothing vocals it makes it all worth a listen. It is one of those types of tracks you could hear in the comfort of candle light or a fire place with a roaring fire. "It Was Worth It", is the one track where Lindsey's vocals shine the brightest. You can really hear the power of her vocal chords, while she may shout at times, it makes her singing much more entertaining.
Speaking of entertaining, Lindsey has also sang a theme song for the ABC Family or Freeform series HUGE, along with being able to sing with the band called PowPow for a Garnier Fructis commercial. There is so much going for her, it is hard not to notice her when it comes down to her vocals let alone her work in general. Lindsey Harper's career especially in music is quite impressive, she is surely an artist to follow, as she has already gained quite the resume of sorts as it is, there is no telling where she will end up next.
https://www.facebook.com/LindseyHarperMusic/
By: Natalie Perez