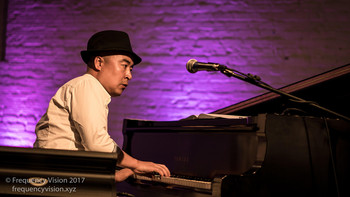 For the past decade artists from the East have begun to gain a foothold in the States exposing their vast talents to the world. Examples of such individuals are Feifei Yang, Princess Long Long, Camilla Cheung and others. Among these talented people is another artist who dares to combine two musical genres and make them into a cohesive sound.
Composer, Arranger and music educator, Liu Dongfeng who is by origin a pianist has managed to fuse Latin Jazz and traditional Chinese music to make an amazing recipe. He is without a doubt the first Chinese artist to do so. In China he introduced this sound when he was invited to perform at the Diaoyutai State Questhouse for President Xi Jinping and Cuban President Raul Castro. Both dignitaries were very impressed with his work. This positive feedback touched Dongfeng deeply as it was an honor to receive such accolades.
He was taught classic piano as a child and received training at the Shenyang Conservatory of Music accessorial middle school. Dongfeng had also received instruction by Moreno Donadel well-known Italian Jazz pianist and a professor at the Beijing Contemporary Music Institute. As an artist he sees each discipline as one entity. He bestowed his knowledge as an instructor at the Beijing Academy for Performing Arts and the jazz department in Beijing Contemporary Music Institute.
"Every identity is not separated by another. Pianist, composer, educator and arranger exist as one unit. In earlier classical music the masters were a combination of all these elements. Such examples are Bach, Mozart and Beethoven who were not only composers but performers as well. Jazz of today uses the similar template as the classical music of the past. This fact lends to the beauty of jazz music."
His accomplishments earned him membership in the Pop Music Association of Chinese Musicians. Dongfeng would go on to graduate from the Central Conservatory of Music with a BA. His education and desire to improve his musical acumen would pay off great dividends. In Cuba he would study Latin piano from esteemed composer Alexander Boschez. But his most notable teacher was Grammy and Latin Awards Jazz musician Gonzalo Rubalcaba.
Dongfeng has performed with many artists but does not hold one artist more notable over another. He really appreciates working with any of them as he learns more from them and the diversification helps him improve his composing skills. Dongfeng has performed at many events and shows. In China he performed at the Annual Meeting of China Hainan BO'AO Forum for Asia. He was the first to develop a Latin Jazz band in China as there are very few who play that kind of music in his native land and then he set up "Dongfeng Jazz Trio".
Recently he had performed at the Shapeshifter Lab with talented artists like Feifei Yang, John Benitez, Francis Benitez and Chen Fan. The show was a success and was well received by an audience that has never heard a fusion of traditional Chinese and Latin Jazz. The audience was made up of professional artists and musicians. It was the first time this musical fusion was introduced in the New York.
"My background gave me the guidance to fuse both disciplines. My responsibility is to do so each member of my band was excited to be a part of this fusion. The guests have never heard the fusion of Latin Jazz and Chinese."
Dongfeng was also honored to be a judge at the Xing Hai Cup" National Piano Competition. One of many honors bestowed on him during his career. He is a teacher and performer and since 2000 has been joined by such artists like Grammy winner "Ochun band", Angel Timbal Velazquez, Liu Yuan, Izumi Koga, and many others. Since then he has released an album entitled "That Time" in 2014. The album is unique as he used a piano to imitate the sound of Chinese folk instruments. For one of the tracks "Fish" he mimicked the sound of the Chinese instrument the guzheng which is not an easy task. The fusion of Latin Jazz and Chinese music has always been his desire to perfect.
Dongfeng has graduated from a Masters in Jazz at Queens College. During his mission for discovering new avenues of music he has studied with musicians like David Berkman, Jeb Patton, Antonio Hart, Barry Harris etc. As for composing he has learned from Grammy winning composer and arranger Michael Mossman. As Dongfeng proceeds to push the envelope he uses his theory that as a good musician has to be a good advocator of culture. In his works he wants to present two cultures the Latin and the Chinese. This way creating a unique sound to make people aware of it internationally this way people can understand both cultures better.
by Nick Christophers