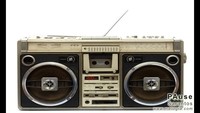 Sarantos crafts a perfect deep house track with the poppy "Pause". Elegantly executed, the song's melody is downright infectious. Layer upon layer of sound come together to create a perfect streaming kind of psychedelic. Right at the very heart of the song are the vocals, with Sarantos singing with a heightened sense of passion. His lyricism touches upon a contentment with the world, by showing how happy people are when they together. This togetherness is explored in a playful way. Nicely touching upon acid techno, synth pop, with just the right amount of sampling the song is pure happiness.
At first Sarantos keeps the song relatively minimal. The minimalism defines the first stretch of the piece. Eventually this builds up into a rather summery groove, full of light hot hot heat. By opting for such an approach the song builds up steadily. Beats grow ever more physical in temperament, as the piece gains additional energy. With the structure of the song the piece incorporates a wide variety of twists and turns. Cyclical repetition adds to the party-like atmosphere that defines the piece. Over its course Sarantos thoughtful inviting lyrics add to the spirit of the track, one that emphasizes unity. For the final stretch of the song everything comes together in a blissful wave, one that washes over the listener.
With "Pause" Sarantos taps into the spirit that surrounds: the way that technology has come to frame so much of the world, in a celebratory joyful way.
By – beachsloth.com