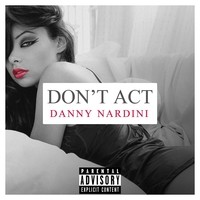 Hip hop's newest sound is the angst fueled flows of Upstate New York artist Danny Nardini. Danny's inspiration comes from the burning desire to rectify his family's break up and spiral downward into poverty. At the age of 14, he was working to support his mother, younger sister and younger brother. Discovering the power of music and rhyme was the pathway out of darkness for his soul and maybe for his family. Emotions born from the harsh realities he faced fill Danny's lyrics and rhythms with a fierce presence that can't be denied.
On "Don't Act" he brings it all to the fore and comes out clean with a track that once you are used to, you're hooked. It's chimes, with a booming bass and a big beat pattern that pulls you right in and the rapping does the rest. Not being familiar with him, this comes as a breath of fresh air, so, if it's his only single so far then he is on his way. This world is full of fake and this song deals with that in the lyrics, but not exactly taking about a phony person. Just about an over-acting love interest. It carries a slight romantic twist that way, and it keeps the cut well-grounded.
Everything from her tennis shoes to her favorite drink are mentioned against what contradicts. This is where the lyrics almost go explicit, but it's more of a romance thing. I could hear him getting more naughty with his lyrics, but he refrains well on this single. This shows an effort to be radio accessible, but not commercial. Keeping that edge is not easy, but Danny Nardini works it out. If you like what he's cooking, it should lead to more fine tunes. It all depends on what kind of music you like, so I will say that it is becoming more and more limited but singles appear to be helping hip hop flourish. It started that way after all.
This is a smooth track for the most part, but it does have a few bursts and changes but nothing to twist it up. It takes mostly up but never down, and the rest is commanded by his singing voice, which raps with the best. It's kind of like an homage to both hip hop and soul that way, as it sounds old and new school. These are just a few small observations, rather than giving the whole jam away. Up one side of the chain and down the other. There's nothing to dismiss about this, except for maybe the vocorder which you can take or leave. And I choose to leave.
His voice simply cannot be denied, and the lyrics don't hurt what Danny Nardini is bringing either. This can go either way and I will add that I like it, so it comes recommended for lovers of soul music, hip hop, funk, R&B and anything you can dance to. This is also a fine cut for the car stereo as well. With some low-end I could hear it coming down the street already. It's that good, but if only it came from a full-length album in this EP era. Because all it would take is some more of these and it would be over the top. But he could be headed for the top with this one anyway.
Kevin Webber