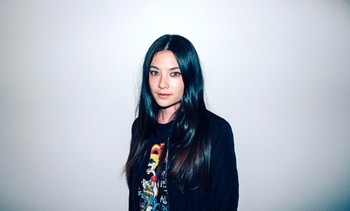 San Mei's 'Until You Feel Good' gets a new life today with the addition of a stunning video clip. The electric lady from the Gold Coast has also sweetened the deal with the announcement of her debut EP, Necessary out Friday July 14 and a local launch show.
Rich with mysterious hues, the footage follows a young woman's time-bending journey across the dream-like and the real when the memory of a boy from her past returns. But just as quickly as he appears, he is gone. The harder she tries, the quicker he slips away. Filmed and directed by Brisbane based filmmaker Jennifer Embelton who is behind clips for Babaganouj, Huntly (MELB), Good Boy and Jeremy Neale; it's a stirring accompaniment to the track which has been gracing airwaves across the country and repeating on playlists across the globe including Spotify's 'Fresh Finds'.
Described incredibly aptly by triple j's Bridget Hustwaite as 'mellow alt-rock with the right amount of fuzz and groove' San Mei's signature sound has managed to garner international praise from the likes of NME, NYLON and Indie Shuffle. Featuring a collection of songs firmly cemented with the help of Konstantin Kersting (The Belligerents, Tia Gostelow, The Jungle Giants), San Mei's Necessary EP is a diary of loss, love and nostalgia. Featuring four tracks including singles 'Until You Feel Good' and 'Rewind' it will be released via Melbourne independent label LXVI. The brand new label is the brainchild of Mick Tarbuk (Believe Distribution Services AU/NZ Manager). "I've kept a keen eye on San Mei's progression as a song writer and an artist over the past year, stoked to be part of the team," he says.