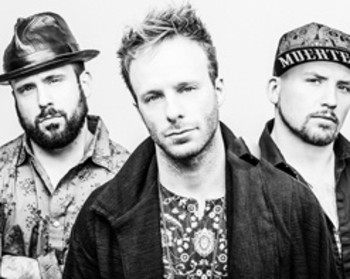 "Our lyrics question the nature of your reality", John Shannon of "cosmic rock and roll" trio theSHIFT boldly declares on the band's website. Shannon (vocals/guitar) and his bandmates MJ Lambert (drums) and Ben Geis (bass) attended Berklee College of Music in Boston, but the group now calls New York City home. While they make great music together, all three are accomplished musicians in their own rights: Shannon has recorded and toured with John Mayer, Lauren Hill, and Ben Harper, as well as composed music for comedian Louis CK's live specials and hit FX series, Louie; and Lambert and Geis have backed legends like Big Daddy Kane and Slick Rick.
http://www.theshiftofficial.com/
In 2015 this powerhouse trio released their debut EP 7th Direction. Shannon told CHARGED.fm that the title references Native American philosophy, saying, "The first 4 directions are East, South, West, North. The sky is the 5th and the Earth is the 6th. The 7th Direction is the direction within. Though this direction is labeled going 'within' it is just the same connecting with the cosmos that are on the outside. Therefore it's the direction of connecting with all things in an ethereal sense." Recorded at Mission Sound in Brooklyn and JRock Studios in Manhattan, 7th Direction was co-produced by Jamie Siegal (Taking Back Sunday, Mary J. Blige, Santana).
"Consecrate" and "Dreams" are two tracks from 7th Direction that show the group's ability to combine influences ranging from Led Zeppelin and Van Halen to the Police to Ryan Adams to John Coltrane. Both videos were directed by Steve Pyne of famed video production company Fallout Entertainment.