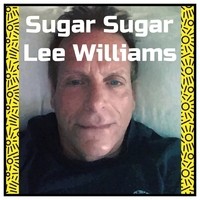 Downright celebratory, Lee Williams offers a joyful update of the 1969 Archies' classic "Sugar Sugar". With a nice laid-back mellow groove, Lee Williams lets the group play distinguish the sound. Guitars have a fuzzed-out blissful take on the track, doing the original's jangle true justice. Synthesizer is woven into the song's DNA, doing a fantastic job in further emphasizing the song's strong melody. By far the true heart and soul of the sound comes from Lee Williams' powerful vocals. His voice proves to be quite agile as he shows great range over the course of the track as the vocals are imbued with a great passion.
Not a moment is wasted as Lee Williams gets everything started all at once. The raw sound works wonders giving the piece a warm, welcoming quality to it. When the chorus comes in it feels rather colorful, the way the entire piece grows so large. Rhythms are kept loose as the song chugs along with a childlike sense of wonder with the world. Indeed, the delivery of those eternal lyrics are treated with the utmost of care, for in the latter third of the piece everything comes together quite nicely. Utilizing such a great buildup means that the payoff feels particularly sweet. By the time the song fades out it feels accomplished, complete, and downright perfect.
https://www.facebook.com/Leewilliams19889492/
With "Sugar Sugar" Lee Williams taps into the best of classic pop, the kind that grows ever more enjoyable with time.
By – beachsloth.com