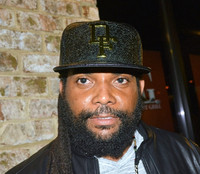 Lion Tafari – Birth name Demetrius Durand was born April, 22,1980 on the Island of Dominica. While growing up his interest lead more towards singing, taking part in school talent shows or simply being in the hallways with friends, at recess chanting a few reggae tunes.
In his mid teens he relocated to the U.S. Virgin Islands, St Croix. His latest single is Remember The Dayz(revised version) released in October, 2016 from the album FYAH STARTA. It crosses some reggae barriers with heavy rap content, but the music essentially remains reggae-driven behind that accompanying element.
REVERBNATION: https://www.reverbnation.com/liontafari
The revised version of Remember The Days is fresh and vibrant with the few extra bells and whistles it brings. But it questions whether or not Lion Tafari will go full on hip hop or stay reggae grounded in the future. So, one thing it does is beg that question and entice for more, even if you've been listing to the FYAH STARTA full CD release from 2014 from which the single is culled and revised. The album track doesn't have the same intro, but it goes right into some piano chords to set it up before he takes the mic with an electronically-tracked vocal, which is also featured in all his music to bend yet another layer to the mix. He sings about reminiscing the days of his youth, and how it eases his mind when he looks around and the present culture clashing that needs to be addressed by as many artists as possible these days. This is not a political song, it's more of a celebration of the times we used to unite and everything from the value of the dollar bill to the lack of love going around in society now. It preaches against hate without even mentioning the word, and that's an awareness hard to find in any medium in a long time being used to get this message across. The single can be recommended for that alone, but there's more to chew on.
The lyrics can always tell much, and this is an incredible wordsmith who doesn't hold back his voice and overall inspiration to his listeners. There is a brutal honest to his vocal delivery, and it's either your thing or it isn't, but of no questionable quality and skill. As if he's been singing since the day he was born. But there is a playful side that really helps that shine as well. There are too many preaching the good word of cultural integrations, but they don't stick to the ears quite like this. It's a really-good thing, like it or not. There is no posturing or ego ranting here. It only contains positive vibes in the way it's conveyed.
This comes in like a breath of fresh air if it is what you're after, and undeniably excellent either way. But that's still to be reserved for your own opinion, I just hope it sways more than a few. The lyrics and vocals are hip hop oriented but the backing tracks on FYAH STRTA maintain all the rules of reggae with everything from the CD version to this take on Remember The Dayz. They all have compelling messages of a variety of issues, along with a sense of humor and a good-natured approach as far as reggae and rap can go together. But as far as this one opinion is concerned, this is a single to bring back up awareness of a great CD, by bringing more to it.
FACEBOOK: https://www.facebook.com/lion.tafari
Kevin Webber