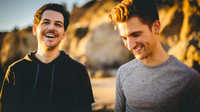 This latest EP from Southern California based duo We The Dreamers marks an important moment for modern music lovers. Myke Wilken and Ethan Rose hail from California and New York State respectively, but their talents come together on this brief collection like the two men are long lost brothers. Such sympathetic chemistry is quite rare. The album has produced two singles from this EP and the most recent, "Time", is a crucial lynchpin of the release. We The Dreamers' sound specializes in mixing electronica, indie rock guitar, and ambient touches with lyrical content and moods aimed to provide an inspirational effect for listeners. Despite the generalness of such a mandate and the challenges posed by blending styles, We The Dreamers present a fully rounded musical vision and a personal touch to the material that elevates it far above the level of mere entertainment. This is an audience pleasing effort, no doubt, but it s much more.
URL: http://wethedreamersmusic.com/
There's a lot of varied textures in the EP opener alone. "Crystal" begins on a rather ominous note with crashing blasts of distorted electric guitar, but some electric piano and synth lines soon come in to sweeten the presentation. Despite their distinct differences in tenor, the contrasting moods are actually quite complementary and it makes for a more varied emotional approach. Wilken is the band's vocalist and he's another lighter elements strongly contrasting with the shadow lurking within the mix. "Parasol" has a livelier tempo and a sharper pop edge. The vocal harmonies are especially good and help strengthen the melodic qualities of this song – there's also a delicious bit of playfulness worked into this song as well. The whimsy is audible early on and handled in just the right way. "A Spark" incorporates an unidentified female singer and her wide range and earnest emotive gifts make her a far more ideal interpreter of the lyrics than Wilken would have. Ethan Rose's guitar has a delicate touch throughout the piece, but it makes its presence felt throughout. The keyboard work provides a crystalline top line melody while an artful cloud of atmospherics surrounds the arrangement.
"Strawberry Dream" is practically a folk song with some added musical layering. Wilken's vocals are palpably sensitive and his upper register explorations are perfect for the subject matter and overall tone. The acoustic guitar doesn't sound out of place at all and accentuates the sensitivity of the performance. We return to piano dominated arrangements with the song "Wiser" and its reflective quality is highlighted quite well thanks to accompanying vocal melody and the lush, yet understated, orchestration carrying the lyric along. "Words" is a track cut from a much different mold than the remainder of the EP. We The Dreamers builds this largely around the acoustic guitar work and keeps their usual battery of keyboards and synthesizer much more restrained. Their debut closes with the single "Time" and it's immediately clear why they picked this for their first widespread release. The tasteful blending of guitar, simple and suggestive sound effects, a variety of compelling tempo shifts, and bracing emotion in the vocals make this a winner and a great closer for their first studio effort. We The Dreamers make music with real staying power and it speaks from the heart in a way few artists can manage.
Jason Hillenburg