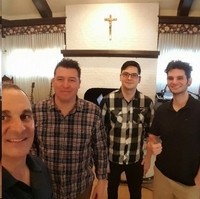 Every Other Sunday sings with heart and soul on the tender "Ghost". Neatly blending together an early 90s intimate grunge sound with the blues the song unfurls in a surprisingly wonderful way. Downright catchy, Every Other Sunday tells a story over the course of the song, one of heartache and rejection. Rather colorful in their description the song unfolds to reveal a true sense of sadness, one that sometimes inevitability happens after the end of a relationship.
The way the song begins is on a gentle note, with clean guitar lines introducing the piece. Everything from there stems from this singular, laidback groove the guitars offer. Drums have a light airy approach to them. Buildup occurs ever so slowly, for Every Other Sunday employs a cyclical style to the sound that feels particularly moving. Attention to detail means that the entirety of the song is perfectly balanced, from the pained vocals to the increasing intensity of the guitars. Choosing such a style works wonders in further emphasizing the powerful vocals that serve as the core of the sound. Indeed, the lyrics dwell upon the lonesome feeling that occurs upon the end of a long relationship. Every Other Sunday picks up in the latter half of the track, as the song reflects upon the good moments of a relationship before it all collapses.
"Ghost" reveals Every Other Sunday's penchant for the best that rock can offer: that satisfying slow burner, and they do it with the utmost of grace.
By – beachsloth.com