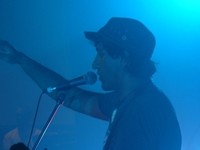 I have to admit that I've always been a bit of a music snob. To a large degree, I find pop music to be geared toward the lowest common denominator. If you think about it, for it to appeal to a wide range of people, it sort of has to be. You have to have music that's not going to be too far adrift from the mainstream or it's likely to lose some potential listeners.
URL: https://www.omidmaster.com/
To my ears, that problem seems even worse these days. Over-production and auto-tuned vocals have destroyed artistic integrity in a lot of pop music. Then when you layer that on top of songs that go out of their way to land in the musical mainstream, and it lends to bland music. That is true here to some degree, but Omid Master manages to rise above those limitations in some ways.
"Only You" is the "A-side" of this single. While I like the acoustic guitar on the number, the tune really is firmly tied to the modern pop music sounds. Because of that it's a bit generic. Beyond that, there is a bit of a paradox. On the one hand, it feels over-produced. Of course, that's a trademark of the modern pop sound. There is a bit of a flat edge to some of the production, though. It doesn't seem to have any depth. Most oddly, the drums seem to lack any kind of punch. That flies in opposition to that modern pop sound. Ultimately, the tune isn't bad in terms of song writing and structure. I even think that the performance is pretty good. All the issues I have with this are related to the production.
The "flip side" of the single is "When I Close My Eyes." The drums still seem to have a lackluster production here. The rest of the number, though seems better produced than the opener was. To me there is a bit of an INXS vibe or Simple Minds vibe to this. It's much more of a rocker, but it has a melodic feel overall. The vocal performance has some real meat built into it. I dig the guitar sound on the cut quite a bit. While I wouldn't rush right out and buy this song, I like it better than I do the "main" tune.
This is clearly better than a lot of the pop music that gets pushed on the radio these days. It is still very much in the "non-spicy" category. The truth is, though, that it's very hard to judge a musical artist on just two songs. I understand that he's now working on his third album and perhaps these are tunes that are destined for that release. It might be that these two songs are the most mainstream cuts of the bunch. On the other hand, it might all land in that general territory. I really don't know, nor can I make that call. Based on just these two songs, I'd land this guy in in-offensive pop music territory. He manages to avoid some of the traps associated with that genre.
3.5/5 Stars
FACEBOOK: https://www.facebook.com/Omid-Master-176474240371/
G. W. Hill