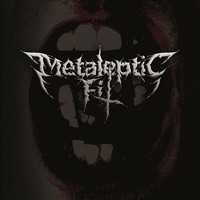 Metaleptic Fit is an industrial/thrash metal band based in the Chicago area, formed in 2013 and lead by The Reverend. The Reverend's background has crossed through rock, blues, rap, hip-hop, house, and dance genres. From the beginning, he has enraptured heavy metal as a lifestyle of spiritual reverence. On the self-titled debut two track release Metaleptic Fit, the message is strong and even though The Reverend does have a wide range of musical ability, the title says it all. This is as metal as it gets, verging on death metal with its speedy and often doomy sound.
Releasing two tracks can have its drawbacks in describing a band and its product, but it's all spelled out in the songs on what is a Sampler CD, to be followed up by a subsequent 2017 release. And these aren't bad at all for a start. But it's hard to know where anyone is coming from at first, and Metaleptic are no exception. But to mention a few influences they have been compared to the likes of Pantera and Sepultura, both of which they sound like a blend of. While they forge their own style with the many other genre's they're versed in. And for all it is worth, they're off to a good start with these two tracks.
URL: http://metalepticfit.com/
"Prey On Thee" is a wicked song with all of the nu-metal bells and whistles. If you like it hard and bone crushing, this is for you. The drums are so out of this world it could carry the whole track. Time signature changes galore help drive it as well. Before the song is over you really can tell it's not as straight forward as it can come off. This is where the skills pay off without meandering. You either like this or you don't, but one thing's for sure, it rocks. You can't deny when that is the case, no matter what your taste. And on this track, most of the vocals are comprehensive, so you can catch the lyrics. But there is no reason to analyze this type of music, it's for those who like it hard and heavy with a dark message. But that doesn't mean there isn't a lot more going on. There certainly is, and if you're into this you might want to know where Metaleptic Fit are headed. These aren't the best of times in the music industry, but that shouldn't hold anyone back from carrying on. No compromising is what metal is all about, no matter how you break it down from old roots to current branches. That is clearly understood by anyone thriving out there, and if you don't keep going, why start in the first place.
They prove their ambition is strong, and "She's Calling Me" seals the deal. But it does get more complex in the singing department with the vocals treated with even more layered effects. It almost sounds like he is singing through a swear pipe and it's cool. But this track is also helped-out by some very incendiary guitar work. A lyric video also helps with following the words better. The tracks even out pretty-well together, and the production is clean enough to seamlessly fuse them together. Hopefully they will get to that full-length LP, which could be quite a monster if it is anything like what is delivered on these two epic tracks.
4/5 Stars
FACEBOOK: https://www.facebook.com/metalepticfit/
Larry Toering