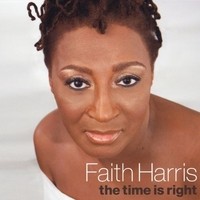 Ann Faith Harris was born and reared in the blue-collar music mecca of Buffalo, New York. Growing up in a household headed by her mother, a classically trained vocalist, Faith started singing hymns and anthems in her family church, St. Phillips Episcopal. Throughout her school years, she studied piano, sang in school choirs, ensembles, and formed several singing groups as she performed in and around the very vibrant city musical scene. Faith recreated Imani's group to an exclusive band, with 7 vocalists and a rhythm section. She was the lead songwriter, played piano and created arrangements for much of the group's repertoire. This is a review of her 2012 release; The Time Is Right.
REVERBNATION: https://www.reverbnation.com/faithharris
Jazz has come far and will continue to go so far, as long, as artists like Ann Faith Harris are around and still doing it. This is her only album but hopefully more will follow and I will be right. There isn't a lot more to go into other than describing the music on The Time Is Right, and letting the rest follow. And not being the biggest jazz lover it still comes recommended for the sheer vocal talent she displays, and the music to back it. It's the only way to give it its proper due and review it with an in-depth approach and put her money where her mouth is, which is right on target for her audience.
It kicks off with the title track "The Time Is Right" and you just can't deny the soul of this woman's silky yet sultry voice. She sounds traditionally bluesy on this opening number that just sizzles. It centers around making the moves and judgements that come with it life. There is no turning it off when an opener cuts so well through the ears. The pace instantly changes on "Never Never Land" which is a smoky ballad to contrast to energy of the former, but it does so with pure ease and you don't lose any time staying into it. Both deliver on the same level but with different speeds.
But then we get to the third track and she covers the wonderful "Street Life" originally by Randy Crawford who did it with The Crusaders in the mid-late 70s, and I couldn't write this without mentioning it is one of my all-time favorite jazz heavy songs, even though I tend to reach more often for blues. And Faith has both, along with gospel factors that also help this CD, but anyone who'd cover this would have my blessing, it is a superior track and she does a fine rendition. It really doesn't get any better than this classic. If you know it you don't even have to put it on, it plays in your head. Top marks to all for this, including the added spoken words.
"Brother Can You Spare A Dime" is of the Ella Fitzgerald order, and you simply can't dismiss that vocal approach. It picks up way harder on the brooding sound of "Morning Glory" as the tracks just get better on down the line with "Here's To You" which has a popping arrangement that just perks things up at the right time on the album. As where "Hide Myself From View" reminds so much of Anita Baker you'll do a double take. And the rest is on the gravy train with everything from "Open Door" and "Pace" to the final outro number. It's all very high quality, well produced music with no better choice once can make for a cover. And you can't lose with this release by Ann Faith Harris.
ALLMUSIC: http://www.allmusic.com/album/the-time-is-right-mw0002442940
Score: 10/10
Larry Toering