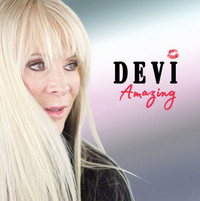 "One More Day", comes off the EP "Heart Stone" by born again singer/song writer Devi. Not only was that song included on the EP, but was then made into a video to accompany said song, which was at the time a single, later turned video. Which would then be led on to being re-issued on the full-length album titled "Amazing".
"Amazing" does include "One More Day", as it is the second track off this album, the title track opening the album wide open of course. But how do the title track and re-issue single of "One More Day", hold up, let alone both being back to back with one another. Well the title track "Amazing", kicks things off by being very focused and centered if you will. Not really sure how to describe the music style really. It sounds like something you would heart on the radio online or in your car space, it sounds a lot like pop music with some elements of electronic and rock possibly. While "One More Day" the re-issue track off the EP release "Heart Stone", sounds quite nice for a re-issued track. The original version of the track sounded decent enough, but the quality of it, lacked dearly. While this re-issued take of the track, sounds cleaner, more developed, has a refreshed appeal to it. Basically it sounds way better than how it sounded beforehand.
Aside from these tracks alone, the rest of the album consists of a total of 12-tracks including some of which that stand out, just as these had done. Like take for instance "Promises", "Bad Boy", "Let's Get Funky", "Summer Love", and "Darkness", are the tracks that tend to stand out above the rest offered off this album. A lot of the tracks on this album, happen to come off the EP we have already addressed. So more re-issues of material, that sounded truly flawless to say the least. As for these tracks picked out, the good handful here, go out of their way to bring out the exposure of Devi's abilities as an artist. Her vocal chords working overtime with feeling and emotion with each track. While the lyrical context goes into the emotional aspect more so than it should.
Like take that lyrical context Devi has presented a complete picture image of herself, not literally of course, but she is inviting said listeners to hear her stories within her compelling words through her music. If that is not enough to enchant you, then perhaps hearing what Devi herself had to say about this album will do the trick. Devi has said that "Amazing reflects my diversity more than anything I've ever done". She goes on to add that "For the first time, I decided that since I love to express myself through blues, Latin/Spanish, rock 'n' roll, club tunes and even country, why not put them all together on one album? With Amazing I finally freed all the many lyrics and melodies that have been dancing in my mind and turned them into something tangible. To me, that's like magic".
So you see how Devi is able to express herself so well, through her own music abilities and skill set. She for one has taken into account, so many genre choices for one, not counting the one's I considered her music to be at first glance. But she has taken Latin Spanish rock, with club electronic genres to even including country to the mix. All of these choices can be heard upon this album, and these tracks mentioned.
https://www.facebook.com/Deviofficialnow
By: Natalie Perez – natalieannnperez@gmail.com