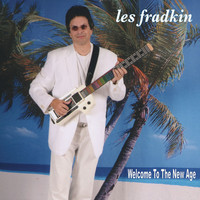 The King of Midi Guitar himself, Les Fradkin, never ceases to amaze me by continuing to evolve with his innovative style of music. 'Welcome To The New Age' is just that with a whole new perspective and direction from Les guiding the listener through airy soundscapes. Fradkin and his Starr Labs Ztar incorporate elements of: World, contemporary classical, Ambient Pop and Rock on this new album. The sound is fresh and exhilarating as you embark on this musical journey.
The recording starts off with the title track and I can't help but notice the Zen-like, modern and futuristic vibe in place. I can truly sense this "New Age" that Les Fradkin has brought to life here as it is such a cool buzz of sound that has you wondering what's to come. Moving ahead we hear "Forward Motion" that brings you a club-like, transcontinental sensation while track three, "City Lights", is glowing with a Pop-friendly tone. Next up is "Breathless" and this composition will have you breathing in a vibrant dance number that moves with precision. This track would even have Beethoven rolling over to the beat as Les Fradkin conducts in snazzy Bach fashion. Following along, one will hear the song "Dance Like No One Is Watching" where you can't help but sway back and forth to the catchy rock riff and solid beat with its worldly presence. Aim for the sky on track six, "Fly Away With Me", as Les is taking you to the clouds through translucent playing. Jumping ahead to song 10, you will want to watch your steps as you head "To The Edge Of The Universe" and witness an intergalactic & intriguing texture in place. Les Fradkin ends the record by keeping the listener in suspense and having one wonder what's to come on "Take A Walk With Me". You will be thinking where this musical journey will be going and when it will end as Mr. Midi Guitar keeps you on your toes. The element of mystery to conclude the album is an excellent and smart tactic on the part of Les Fradkin as the mystique is the real draw. By ending on this note, Fradkin has transcended the listener way beyond just a regular listening experience to more of a New Wave type of thinking. I can't help but think of the great Rod Serling and his masterpiece "The Twilight Zone" where his words coincide with Les Fradkin's vision of 'Welcome To The New Age'. Here is a quote from Rod Serling for "The Twilight Zone" and I'll let you be the judge to see if the two compare: "You're travelling through another dimension, a dimension not only of sight and sound but of mind; a journey into a wondrous land whose boundaries are that of imagination." I think the similarity speaks for itself as Serling brought you to that mysterious place known as "The Twilight Zone" and Les Fradkin welcomes you to a New Age land where your curiosity runs wild and your perception of music changes forever.
This is a brilliant piece of work by Les Fradkin proving once and for all that his music has no boundaries. 'Welcome To The New Age" is a unique and refreshing taste that fully satisfies my musical palette with a sound that is limitless. Les Fradkin is taking huge leaps and bounds with this 11-track recording where music is the universal language in its purest form and Les is freely speaking through his Starr Labs Ztar Midi Guitar and carefully-constructed compositions. You can buy and download the full album right here by clicking on one of the links below for CD Baby, Amazon, iTunes or Google Play:
https://store.cdbaby.com/cd/lesfradkin35
https://store.cdbaby.com/cd/lesfradkin35
https://itunes.apple.com/us/album/welcome-to-the-new-age/id1228309784
https://play.google.com/store/music/album/Les_Fradkin_Welcome_to_the_New_Age?id=Be4vydwiblxzpouczsz4z5sxegy&hl=en
Job well done here and all I have to say is: 'Welcome To The New Age'!
http://www.lesfradkin.com
http://www.reverbnation.com/lesfradkin
https://www.facebook.com/lfradkin
http://www.youtube.com/user/lfradkin
http://twitter.com/lesfradkin
5 Skopes
By Jimmy Rae + (jrae2@att.net)