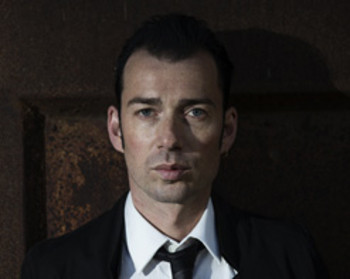 We've got another great clip for you, this time coming from Scandinavian artist Laust Sonne. Coming all the way from Copenhagen, Denmark, this multi-instrumentalist and composer is known for playing drums in the renowned Danish rock band D-A-D, releasing two albums with his band Dear, playing drums and guitar in Bugpowder, and now, for his own solo project. Oh- and he's got a pretty unique sense of fashion, too.
Laust Sonne had a hit with his 2008 song "Spell On You", and after releasing his self-titled album in 2011, returned with the album Relations (released in 2016 via Danish label Billy B Records). On the surface, it's undeniably catchy, mainstream/ radio-friendly pop, but Laust Sonne is a real songwriter: ultimately, he believes that a good song will work with any styling. Most of his writing is done with just an acoustic guitar so that he can ensure that the melody is top notch." In a 2015 interview with MindFuck Society, he described his music as "Modern Pop w Heart" and we couldn't agree more.
Originally released as an "unplugged" acoustic and strings-driven track on the 2015 Classic Relations EP, "Reckless" was later included on the Relations album. Sonne produced and arranged the album himself, with additional help from Ian Nilsen. Anders Schumann- one of the absolute top mixers in Denmark- mixed the album, adding the final touches. "Reckless" is a romantic pop song, daring the object of Sonne's affections to be reckless, as he insists, "I'm all in, I'm all for you." The beat is infectious, and it's just as much of a disco club banger as a pure pop ballad.