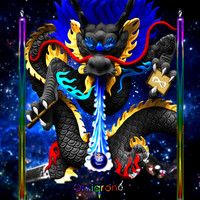 Omiqron6 offers an otherworldly exploration of sound on "A New Kind of Lightning". A highly unique approach is taken for this album, one which rests in-between the waking and dream world. Stylistically Omiqron6 weaves together ambient, classical, dub altogether in a quiet celebration. Rhythms exist in a mysterious fashion, as the cyclical nature of the album works in its favor. Indeed, the carefully selected sonic palette works wonders in highlighting the overall surreal sound that permeates the album. By including unforgettable melodies into the mix the way the album unfolds feels akin to that of a journey.
With "Om Is On" the tone is set early in the album. Slowly but surely the many layers of sound are added together in a wonderful tapestry. Quite woozy in scope is the playful nature of "Pawa". Nearly silent is the hushed reverence of "3 Times Astray". A Zen-like calm defines the gentle spirit of "Warrior". "Ishvara" opts for nimble, carefully laid out melodies and structures that feel delightfully unpredictable. Referencing early IDM is the acid techno tinge of "Tau Tonic". Easily the highlight of the album is the stately manner of "I Feel Like" where Omiqron6 almost appears to be reveling in a kind of triumph. Closing the album on a soothing note is the ebb and flow of "Out of Me".
Teeming with positive energy and joyful sound is Omiqron6's blissful dive into the unknown on "A New Kind of Lightning".
By – beachsloth.com