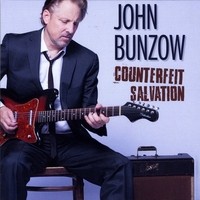 There is a shared ground between a lot of pop music. Mind you, I'm referring to "pop music" in a very traditional sense, meaning "popular music." In a lot of ways popular music trends vary over time. In the first part of the twentieth century, pop music often meant piano sing-along tunes, things that are now called "standards." Then came jazz and blues. Country and folk also had their time in the sun, all before rock. The grand parade continues along from there.
The point I'm trying to make is that all the music that comes after, has the ability to reference the music that preceded it. This album is a classic example. It builds on a wide range of styles, but still manages to make it all seem fresh and unique.
BANDCAMP: https://johnbunzow.bandcamp.com/album/counterfeit-salvation
The introduction on the opening "Song and Dance" brings a bit of mystery and anticipation. It works out to a rock song that's full of country music and folk. There is some smoking hot guitar soloing on this. I love the little fills that serve as punctuation to the lines.
"Miss My Whiskey" comes next, and I love the choogling groove on it. The song makes me think of Creedence Clearwater Revival a lot. The harmonica brings a lot of magic to the proceedings along with more CCR comparisons. The whole thing has a lot of roots music on it. As much as I dug the first one, this ups the ante quite a bit.
"Detour" is a huge change. It has a lot of psychedelic rock and some soul at its heart. It's a classy tune that really has a great retro sound to it.
I can make out some hints of fusion on "Regina." Beyond that it feels like a modern alternative pop meets jam band kind of number. I like it a lot.
Next up is "Since You Came Around," and I still make out some of that modern alternative pop sound, but this time it's thoroughly infused with country music. The song is slow moving and potent.
There is definitely some funk added to the mix on "Quicksand." I suppose the jam band thing is back in play. It's a great rocker with a lot of shifts and changes to it.
I mentioned funk in my review of the previous cut, but the title track has so much funk in it that it's scary. Yet, the vocals bring a bit of a twang to the proceedings. It's an intriguing blend of sounds.
I can almost make out a Rolling Stones kind of vibe on "Sometimes." The vocals are nothing like Jagger's, but this has a lot of that sort of musical element. It's a classy tune.
"Better Way of Living Our Lives" is purely oozing funk and jazz. It reminds me a lot of the song "Brother Louie" from Stories. I'm not crazy about the strings on this, but the song really emanates an aura of "cool."
The female backing vocals on "Too Much Love" make me think of Stevie Nicks just a bit. There is more of that Rolling Stones element here, too. This is more of a pop ballad than it is anything else, though. Yet, there is still some funk in the mix.
There is some cool slide guitar on the old time country song titled "Unwind This Tailspin." It's catchy and really an appropriate way to end the set.
8/10 Stars
CD UNIVERSE: http://www.cduniverse.com/productinfo.asp?pid=10359386
G. W. Hill