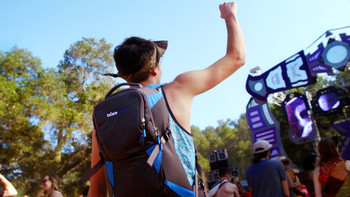 Baserock, the company behind a new, versatile hydration backpack that allows wearers to physically feel music by vibrating bass frequencies throughout the body, will launch a Kickstarter campaign beginning Tuesday, June 13th at (link to campaign). The $10,000 Kickstarter campaign will be Baserock's initial run of manufacturing, offering music enthusiasts and adventurers the opportunity to be the first to receive the immersive, bass-frequency backpack at a discounted price.
"We designed the Baserock to optimize our physical experience of bass frequencies at music festivals," said Jared Becker, Baserock Co-Founder and CEO. "We didn't expect our launch community to start using Baserock in so many different ways and places. On hikes, at work, on the slopes, walking downtown, mountain biking, you name it, and our community took it with them. We realized that we had built something so much more than a music festival backpack."
The state-of-the-art backpack is equipped with a microphone input for use at a live show, as well as an auxiliary input, so it can be used with a phone/computer and headphones/speakers. It runs on an eight-hour rechargeable battery and has an easily accessible user interface on the shoulder strap of the backpack.
Baserock is designed for the active, immersive lifestyle, complete with a 2-Liter hydration reservoir, two large storage pockets and five secure zipper pockets organized in a compact 19-inch water resistant backpack. Baserock is ready for a three-day music festival, shredding some powder on the slopes, a trek across town, and everything in between.