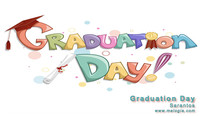 Funky and triumphant, Sarantos delivers a hopeful message with "Graduation Day". Rather playful the way that Sarantos offers a celebratory spirit feels fitting given the subject matter. There is a kindness to the lyricism, the way that a long journey ought to be viewed, especially one so personal regarding self-improvement. Instrumentally rich, Sarantos draws from a wide swath of styles from the funk anchor to elements of alt rock, classic rock, with a little bit of pop thrown into the mix.
An addictive groove opens the song. From there the way the piece unfurls gives it a sunny, shining air. Much of this is due to the nimble arrangements that Sarantos employs throughout the song. His voice rests front and center of the track providing its true soul. While Sarantos sings, a familiar narrative reveals itself, one that shows the importance of self-actualization and independence. With this singular message Sarantos appears to reflect on a lot of what makes academic achievement so incredibly satisfying: from the hardship people face in earning their degree to the change that degree has over the rest of their lives. By framing it such a way the song captures the amount of effort it takes to truly achieve those dreams, along with the optimism that the accomplishment of such a dream can create. With graduation, entire new paths become possible.
Sarantos sings a song that will hold true for the ages with the timeless work of "Graduation Day" a story that shall forever continue to be told.
By – beachsloth.com