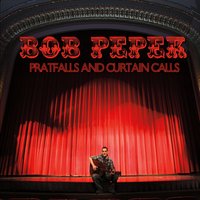 Bob Pepek performs with such passionate on the pop perfection of "Pratfalls and Curtain Calls". Such heart and soul runs through these moving, emotive piece. By choosing such an approach Bob Pepek delivers thoughtful, highly articulate lyricism that guides the entirety of the album. Intricate arrangements further emphasize the exploratory temperament that defines Bob Pepek's sound. Quite clever with his choice in instrumentation, Bob Pepek lets these songs positively teem with life. The stylistic gamut runs all the way from tender folk to soothing alt rock.
On "Against My Will" Bob Pepek sings straight from the heart. Stripping things down to the essentials is the passionate performance of "I'll Carry On". Gentle in its build up the song has a tender, graceful mood to it. A hint of country comes into the mix with "Shattering The Mold". Celebratory and giddy is the nimble percussion of "Out Loud" whose expansive sound sweeps across giving strength to the power of Bob Pepek's message. Introspective to its very core is the mellowed world of "Missing You". Like a great rush is the peppy tempo of "Ship Me Away". Easily the highlight of the album is the timeless sound of "Any Other Man" where Bob Pepek's spirit feels reminiscent of Jon Brion's work. Memorable and melodious the song unfolds in wonderful, unexpected ways.
http://bobpepek.com/?page_id=19
With "Pratfalls and Curtain Calls" Bob Pepek crafts a colorful, joyful series of stories which reflect upon the moments that make up a life.
By – beachsloth.com