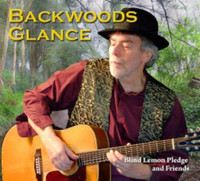 James Byfield, perhaps better known by his stage persona, "Blind Lemon Pledge", is a multi-instrumentalist and blues singer based in San Francisco, California. Upon retiring from his career as a successful graphic designer and creative producer in 2008, Byfield set out to perform music and has since achieved a respectable amount of praise from critics, radio airplay, and international recognition. In-fact he just won two Best Song Awards at the Indie Music Channel Awards including Best Americana Song for "The Hills of West Virginia" and Best Gospel Song for "Give My Poor Heart Ease." Blind Lemon Pledge has released several albums since 2009, ranging from traditional blues sounds to the 2016 rock album, Pledge Drive, which earned several places on the Grammy nominating ballot. This most recent effort, a twelve track album titled Backwoods Glance, was released in early April and is an exploration of Byfield's interests in traditional folk and country music.
Perhaps the most interesting facet of this album is its considerable attempt at vivid storytelling, which is particularly interested in socioeconomic portraits of the American south. When detailed and illustrative lyrical content is combined with the warm sweep of fiddles and the ringing twang of banjos and steel guitars in just the right fashion, Backwoods Glance has moments where the tracks definitively stand out as something quite profound, intimate, and honest through a sense of what might be called rural, simplistic elegance. One of the key examples that demonstrates this combination of enveloping, skillfully arranged instrumentation and colorful lyrical storytelling is the ninth track, titled "Carolina Kiss". The elegant piano melody, coupled with Byfield's well-written lyrics are the exemplification of how good things can sound on this album when everything goes right. Byfield's guitar playing, when on point, is also rather commendable, especially in the song "Sweet Celline", which showcases the greatest guitar solo on the album and is probably one of the tightest performances out of all twelve tracks. Overall, the album is a fun experience; there are a few well-written melodies which are complimented by good fiddle and guitar playing.
Backwoods Glance is certainly not without its limitations. Byfield's vocals, although acceptable and not distracting to the music, are definitely not the greatest. In short, Bob Dylan is the only one that can pull off what might be called, "the Bob Dylan vocal experience", and artists that attempt to present something that, while not necessarily is meant to be the same, but similar, usually don't do very well. Moreover, the lyrics, while without a doubt occasionally profound and intriguing, are often somewhat stereotypical and generic, delineating common and cliche concepts that most people are very familiar with when considering folk music (Appalachian coal miners, people out of work, simple, rural communities, etc.). Another questionable facet of Backwoods Glance is its rather interesting mixing/mastering/production choices. One such example is the usage of what appears to sound like a snare drum throughout the album; the percussion is mixed somewhat low and becomes buried in the rest of the vocals, guitars, fiddles, etc. There are several points throughout this album where a driving rhythm section would have substantially improved a track, but having the snare being lost in the mix might have been somewhat of a production miscalculation.
Backwoods Glance is without a doubt a fun album that showcases some well-performed instrumentation, particularly on the piano, fiddle, and guitar. However, many of the songs lack creative lyrical content, and a few issues with the mix also make Backwoods Glance an album that might not be a masterpiece, but is still certainly a good effort that is worth a modest amount of attention.
Label: Independent
Website: http://www.blindlemon-pledge.com
Genre: Folk/Country
Sounds Like: Bob Dylan, Del McCoury Band
Best Songs: Sweet Celline, Carolina Kiss
Strengths: Overall enjoyable country/folk music with good fiddle and steel guitar playing
Weaknesses: Vocal and songwriting ability is limited, mix/production is mediocre/average
Owen Matheson