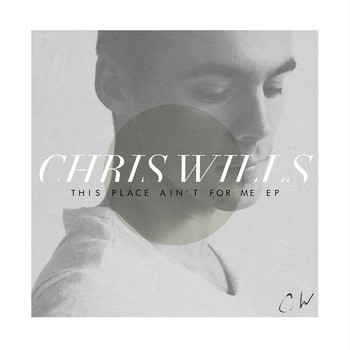 Hard work and hard luck are not necessarily paradoxical and both often play a major role in eventually achieving a goal. Determining what that goal actually looks like – and mapping out a plan of action to get there – is often an arduous process of swings and misses, or in musical terms, striking the wrong chord. For 22-year-old singer-songwriter Chris Wills, knowing that making music was going to be his calling didn't take him long at all. It seems the New Jersey native has packed a lifetime's worth of experiences into the six songs on his forthcoming debut EP This Place Ain't For Me, due August 11, 2017 and produced by Grammy-nominated engineer Koby Hass (who has produced or engineered for Matt McAndrew, Mali Music and Lupe Fiasco's Lasers, Rihanna, Kanye West, Paul Simon, and Lady Gaga).
Q: What was your inspiration for this song? What prompted you to write it?
Growing up I very naively thought marriage was this thing where two very self-aware people, after having a lot of experiences, and then without any social or outside influences, decided that marriage was the best move for each other's happiness. But once I started to pay attention, of course I was very disappointed. I ended up having a conversation with a woman who's been married for over 20 years and she told me that she wasn't happy with how things ended up. It shook me. At the same time I was watching the start of a new marriage between friends of mine that I felt didn't have the sturdiest foundation for long-term success. The tipping point came when I overheard a conversation about an ugly divorce and and how much it's impacting the couple's kids. All the sudden the lines, "Took my pain, took my name, put it all in a wedding ring," popped into my head. I ran to get my guitar, and in 20 minutes the song came out. Then I played it for the rest of the night (laughs).
Q: What story did you want to tell or what message did you want to share with the song?
While I was writing this, in my head I kept seeing this woman staring out of her window at the changing seasons solemnly contemplating what happened with her life and trying to reconnect with her younger self to see where she went wrong. The line that really stands out for me is, "When I was younger, did it make you look stronger?" If there's any message at all, I think it's to really take a second and ask yourself in any situation, "Why am I making this decision?" And I think it's so important to be brutally honest with yourself and what your intentions are so you don't end up with a lifetime full of regret.
Q: What was the recording session like for this song? Any great stories (funny, crazy, entertaining) from the session?
Well this was the first song I tracked for the record with my friend and producer for the EP, Koby Hass. It's funny because up until then I was so used to working in some decently fancy studios that the idea of working anywhere else seemed kind of silly. But Koby was like, "Yeah man, just come to my spot in Brooklyn and we'll cut it there." So I rode the subway with guitar in hand and we cut the whole thing in his bedroom. First time I ever did that and I thought it was pretty cool.
Q: This is the first song on the EP and the first single from it. What about it made you want it to be the "first impression" from this record?
Great question! I think that besides the musical vibe being upbeat and uplifting, it's a great serving size to start getting into the EP's perspective.
Q: Tell us a bit more about the EP overall.
So many times I see people looking down on someone for what they do for a living, or who they're married to, or what interests them, and it frustrates me beyond belief. And I feel that that negative energy can be very dangerous and can pollute society as a whole. But I think the EP, and music is general, can be an antidote for this. I hope someone can take something away from this EP that makes them happier and in turn makes those around them happier. But I'm super thankful for the response thus far and for people taking an interest. And thanks for having me on Skope!