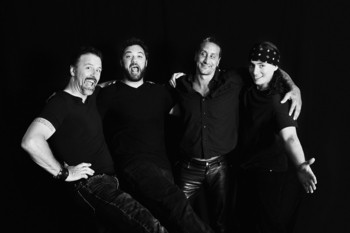 New song/lyric video from Connecticut-based underground metal legends, Sacred Oath. The song, "Twelve Bells", is the title track from their new album, the band's 10th, which comes out next Friday, May 12th.
Sacred Oath has been crafting their particular brand of US metal since 1985. Their debut album "A Crystal Vision" (1988) is widely regarded as a cult classic piece of seminal US power metal, and they've followed that up with six more solid studio albums, including "Darkness Visible", "Sacred Oath", and "World On Fire". The band also recorded a live album "Till Death Do Us Part" (2008) at the legendary Keep It True Festival in Germany which iTunes selected as a Top Ten metal album that same year.
Originally formed while the band members were all high school students in Bethel Connecticut, Rob Thorne (vocals/guitars) and Kenny "Thundarr" Evans (drums) are the only remaining original members. Joined by Bill Smith (2007, guitar) and Brendan Kelleher (2009, bass) these four mark the current lineup on their newest album "Twelve Bells" being released worldwide on May 12th 2017.