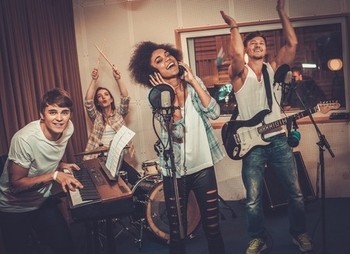 Being a musician is no easy task. Of course, it comes with many benefits, such as having artistic freedom and the ability to pursue your truest passion. However, whether you're in the studio, recording a new album, or engaging on a world tour, it can be tough to stay in touch with your fans. As you are probably well-aware, your fans are one of the largest factors of your success. To ensure they are happy and updated about your whereabouts and activities, there are quite a few ways to reach out to them. Here are a few helpful ideas to accomplish this.
Include a Blog on Your Website
Having a website for your band is an incredibly important part of staying connected and current. The internet is such a gigantic feature of everyone's lives these days that nearly 40% of the world population has an internet connection today. Aside from almost half of the world having internet, blogs are extremely useful tools to help your fans get to know your band better. Blogs allow you to express yourself on a personal level which fans love. Not only that, but it can update your fans on where you are heading on your next tour, or even sneak peeks into your latest new lyrics.
Create a Facebook Page
For starters, Facebook is a huge platform your band can use. A lot of ads and promotions run through Facebook, which is where you can gain more publicity. Not only that, but your fans can "like" your page, which can lead to their friends to also do the same, which leads to a higher fan base. Also, much like a blog, you can update and post pictures of what's going on in your daily lives. Fans can also message you through Facebook, and you can write back to them! You can create exciting statuses about literally anything and a fan of yours can comment, which you can respond do as well. Use it to promote events, local concerts, and ticket sales. If you don't have time to update all your social media on your own, especially while busy with touring and recording, see if you can hire on a third party or good friend to keep fans in the loop. If possible, get an internet provider or service like business internet plans by Frontier in Tampa, Florida to keep you connected wherever you travel to.
Start a Twitter
Much like Facebook, Twitter is an exciting way to keep your fans involved. Create a Twitter handle, find a good web developer to generate your own unique theme, and you have great virtual tool to get connected. Once your fans see you're on Twitter, they will start to follow you. Much like Facebook, if someone follows your page and another Twitter user notices, they will most likely follow your page as well. This is because your band might pique the interest of another Twitter user whose favorite genre in music is similar. Another advantage of Twitter is you only have to write tweets of up to 140 characters, making anything you post, short and sweet.
No matter where you are in your career as an entertainer and musician, these three tips are guaranteed to assist you. Social media is an enormous instrument for your professional life. Since we're surrounded by technology these days, you'll always be able to connect to your blog, Facebook, or Twitter by using your mobile phone, tablet, or laptop. Keep yourself connected to your fans through the use of social media!