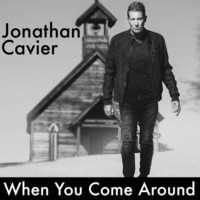 Revisiting an artist more than once, can have its ups or downs it all varies really. In the case of Jonathan Cavier, we have heard his music before with his previous single for the song "Comes a Moment". That track was consistent with the pop genre, it turning out to be good enough. This time around Jonathan Cavier is back with another song that's fairly new called "When You Come Around". This song like the previous one is of the pop genre, except it has a more influential take of John Mayor but his earlier works. So the song is already quite good having taken some sound styles to that guy. Which brings us back to the song itself, this song is the first single off his new full-length album called "Blue Room".
So you not only get a glimpse into what the new album will sound like, but this is the first single from it, out of all the other possible contenders this one was picked out from it. Now that is saying something, in fact, "When Your Come Around", may sound a lot like John Mayors' earlier works, but that's a good thing. It has that pop genre vibe going for it, but keeps a mellow melody that keeps an at ease pace to it.
It becomes a song that can easily be heard upon the radio in your car or on an online radio it's source of style is very captivating and makes the song that more interesting and enjoyable. As a matter of fact, the song itself was written and produced by Jonathan Cavier and mixed by Jason Losett, featuring quite a delicate combination of atmospheric keyboards and shimmering acoustic guitars. The song if curious was about loving someone with all your heart and being willing to do anything for them, even if they aren't always right by your side. Jonathan Cavier's vocal chords are filled with emotion when listening in to this song. Those emotions and vocal chords are accompanied by a light airy instrumentation painting a vivid picture of being deeply in love.
If that is not enough for you, this song does come off his new album "Blue Room" but that album just happens to be the second solo album from Jonathan Cavier. This being his second release with a song and single such as "When You Come Around", you are going to be quite pleased with the rest of its contents most likely. The song is filled with such depth, emotion, and experience, it is hard not to resist its energy portraying outward.
Jonathan Cavier's second solo full-length album "Blue Room" will be quite the effort when it comes to writing and recording, as it is shown very well in "When You Come Around". The first song off this release, that is filled with so much, it is hard to keep going on about it, because all has already been said about it all. If you like Jonathan Cavier's works then you will likely enjoy this next piece of effort from him. If you do not like him or have not heard of him, then give this song a listen, it will change how you view your own life, in terms of the word and emotion of the term called love.
By: Natalie Perez – www.nataliezworld.com – natalieannnperez@gmail.com