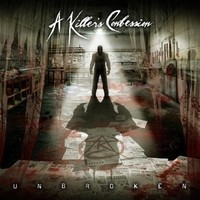 A colossal chaotic din defines A Killer's Confession's bombastic brutality of "Unbroken". The sound is akin to that of a force of nature. Letting loose, the song has a Darwinian approach, with the survival of the fittest running through the sound's veins. By opting for such a take-no-prisoners style, the best thing for the listener to do is simply succumb to the incredible walls of sound that A Killer's Confession creates. With a sound that feels so vicious, so visceral and so alive, the entirety of the album comes together in a brilliant way. Vocals shout above the mechanical metal sound.
Nicely setting the tone is the pulverizing opener "Awakening". From there A Killer's Confession moves onto the swinging impassioned sound of "Spawn Of 7". Martial beats pervade over "Rebirth". Exploring the negativity that defines so much of society is the powerful sound of "1080P". Driving rhythms sync with a manic sound on the crazed mad dog feeling of "Final Breath". A tribal nature permeates the beat-heavy style of "L.O.L (Life of the Lost)". Allowing everything loose is the gigantic scope of "Reason" with the jagged guitar edges adding to the song's tension. Stripping things away a little bit is the glimpse of soothing beauty of "Sympathy (featuring Kimberly Freeman of ONE EYED DOLL)". Distortion reigns supreme on the celebratory spirit of the album's end "Purification (with HEX)".
https://www.facebook.com/akillersconfession
"Unbroken" shows off the undeniable chops of A Killer's Confession with a sound perfect for getting lost in.
By – beachsloth.com