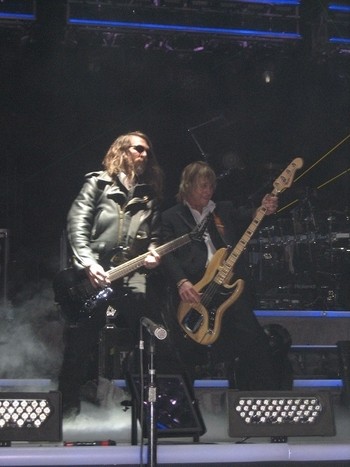 Sadly, the creator of Trans-Siberian Orchestra, Paul O' Neill, recently passed away from a chronic illness. The legendary musical visionary/guitarist/songwriter was the mad genius behind the part rock opera, part Christmas, part storytelling, part straight up Rock & Roll event called TSO. He was successful in creating a truly totally unique concert experience, the likes of what could be expected only in Las Vegas. Paul started out playing guitar and songwriting eventually working in the areas of managing/producing/promoting rock bands, leading to his pet project, the band Savatage. My first personal encounter with Paul was during one of their concerts. I was standing on the mixing board platform in the center of an arena in almost total darkness trying to focus and shoot photos, and I moved over to let someone walk past me. When I turned and looked, I saw Paul with his long hair, beard, wearing his trademark old-school motorcycle jacket and shades, smiling and bopping his head to the music while banging on the railing. We began trading comments, shouting in each other's ears. Later on, in talking with Paul, you realized that he was either consciously or subconsciously listening closely, evaluating your musical knowledge. He was first and foremost a fan of all music, an expert witness on history and the history of music and it's progression and influence on everyone. As Paul often explained his goal for TSO, "For the price of going out to dinner, anyone can attend a show that for 3 1/2 hours gives you non-stop high energy entertainment that totally occupies your mind making you forget all of your troubles. With everything going on, your mind doesn't have enough time to focus on anything else!"
https://en.wikipedia.org/wiki/Paul_O%27Neill_(rock_producer)
The format to his success wasn't simple. Forget about playing small clubs, opening for other acts, having opening acts, have the confidence in your team to move the entourage directly to the big stage, kicking ass and taking names. Don't allow any seating behind the stage, everyone gets a good seat. Spend an alleged $100,000 on pyro per show. Hire the best musicians available. Start rehearsing in the fall in a big building, and completely test the sound and lighting system in a concert-like environment. Always have the state-of-the-art lighting, sound system, lasers, and robotics. Have the latest mechanical contraptions that elevate a group of performers (while playing and singing) up into the upper levels of seating. If something you want doesn't already exist, have one built. Try to secure top name guest artists like Paul Rodgers, Leslie West, Greg Lake, and Ian Hunter to come onstage to do a few songs at each venue. Allow yourself to have some additional fun and pop up onstage, plug-in and jam with the guys.
In 1996 the concept began coming together, and by 1999 the group started touring. The popularity soon increased to where they many times did two consecutive shows at the same venue (some a matinee and evening show), and added additional productions all touring November-December. Tech guys began programming Christmas lights to the song Wizards in Winter. Later on, the group added European dates. TSO has continued to be one of the top grossing and most viewed touring acts. They have had nine top selling albums, and in addition to the Christmas themes, a version of the ensemble toured and performed the rock opera's Beethoven's Last Night and Night Castle. In 2015, TSO and the Savatage reunion groups headed to Germany, to headline the first TSO outdoor show (ironically a Metal Festival), the Wacken Open Air Festival. The stages were designed to be connected for both acts to play separately, then together.
http://www.rollingstone.com/music/news/trans-siberian-orchestra-founder-paul-oneill-dead-at-61-w475347
Paul was successful in accomplishing his major musical goals, and influencing and inspiring tons of musicians as well as just the ordinary person. Everyone left a TSO show smiling, talking about it, and later sharing and recommending attending the one-of-a-kind experience. His legacy will be his enthusiasm to educate, entertain, and his compassion. His generosity included donating $1 or more per ticket to local charities. This totals somewhere around $11 million.
Hopefully, the tradition will continue on. Ever since receiving it, I have had my graciously gifted TSO Tour Jacket proudly hanging in my own studio "Wall of Fame". ROCK ON PAUL!
http://www.trans-siberian.com/
By R.M. Engelman