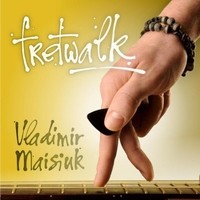 Hailing originally from the city Minsk in Belarus, Vladimir Mausiuk's musical journey is truly international. He's now based out of Dubai in the United Arab Emirates and his guitar playing has carried him to stages in Thailand, Bahrain, United Arab Emirates, South Korea, Oman, and Indonesia. His songwriting and studio connections extend to nations like Ukraine, Canada, and South Africa. Maisiuk's experiences are encompassed on his debut, an eleven song instrumental album entitled Fretwalk, and it's clearly a seminal work from a blossoming guitar talent that will likely last as one of his defining musical moments. Despite the hints of progressive influences making their way into Maisiuk's sense of construction keeps the album's tracks uniformly under six minutes. The release is, likewise, a first rate accompaniment to his latest single "Summer Thrills" and its simmering acoustics. Fretwalk is an ideal name for the album as Maisiuk's fleet fingers benefits from the added bonus of top notch production.
The album opener, "Valley of Dreams", begins with a massive guitar fanfare. Maisiuk's tone is clearly delineated by the production and there are some understated cymbal flourishes punctuating his playing. There are no vocals on Fretwork, per se, but there are moments when human voices rise from the mix like on this cut. It picks up the pace during certain passages, but the song has an overall surprising pastoral quality. Maisiuk makes some occasionally exceptional use of ambient atmospherics to set the stage for tracks and the brief windswept snippet opening "Pilgrim" suggests much. The elegiac tone has two primary guitars running through the mix – his emphatically stated lead guitar lines flash like quicksilver over a varied acoustic backing track. This track has a more definite shape to it than the first outing, but retains the same individuality distinguishing the opener.
There's a slightly more raucous edge than we've come to expect heard in the song "Mountains", but the same expansive treatment defining the earlier performances holds sway here. It really takes off, however, on the back of Maisiuk's frequently soaring lead breaks. "Driving Away" certainly has the feeling of departure stamped on it. It's a briskly paced number that never gets ahead of itself. It's a song that, likewise, highlights Vladimir Maisiuk's talent for creating high class cinematically themed music. Everything in these songs happens on the biggest possible stages and it's a testament to his songwriting talents that those qualities are invoked within condensed musical frameworks. There's an incandescent shine emanating from "Forest Rain" is one of the album's surprising high points. "Columbiana" shares some of that same warm sheen with a Latin spin and it's a small gem of a tune that is one of Fretwalk's more underrated moments. He hits another memorable moment with the slow development of "Memories". It initially begins as another slowly paced number before building more energy and serving as a forum for Maisiuk to unleash more of his torrid and frequently lyrically inclined lead guitar. "Beautiful Eyes" ends Fretwalk with a brief, delicate coda. Few guitar dominated instrumental albums in many years are as cohesive as Fretwalk.
8 out of 10 stars
I-TUNES: https://itunes.apple.com/album/id1151721766?ls=1&app=itunes
Jason Hillenburg