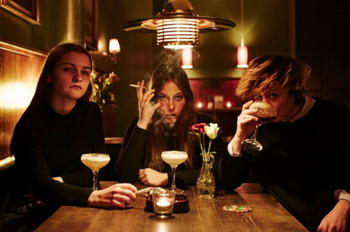 Copenhagen's Baby In Vain just released "Transcendent," their first new track since their 2016 EP For The Kids. They also kick off a UK tour with PINS today, all dates below.
"Transcendent' is a darkly foreboding introduction to the band's new material capturing "how anxiety consumes you and leaves no room for rational thinking or any other emotions…" Featuring their ice-cool approach to garage-rock, the song is one of the most direct and commanding songs they've released to date. It's the first single from the trio's full-length record due for release later this year on Partisan Records.
Formed while still at school, Lola Hammerich (vocals/guitar), Andrea Thuesen (vocals/guitar) and Benedicte Pierleoni (drums) have grown to become one of Scandinavia's most compelling live acts. On stage they are unpredictable, raw and intense while on record, they continually push the boundaries of whatever genre they experiment with. Despite the minimal set up of just two guitars and drums, Baby In Vain make riff heavy anthems ready to fill stadiums.
Credit: Nikolaj Thaning