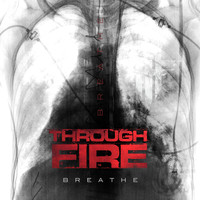 Embodying the best of hard rock, Through Fire's "Breathe" simply overpowers the senses. Riffs rage on through the album with every song build off the last. Vocals rise above the din with a commanding presence. Anchoring the colossal sound is the massive percussion which propels the whole sound forward. Layer upon layer of sound intermingles in a perfect way, inviting the listener to turn up the volume to as loud as it can possibly go. Over the course of the album Through Fire opts for a defiant sound, one that helps to give the songs a cathartic element to them.
"Reborn (intro)" sets the tone for what follows with a steady consistent beat leading the way. From there the album gets truly started on the chaos of "Breakout" complete with some simply stunning guitar solos that soar across the sound. Catchy to its very core is the muscular jerky rhythms of "Stronger". Tension pours out of the anxious title track "Breathe" where the song appears to search for a salvation of sorts. Building up in a glorious way is the careening "Dead Inside". With a galloping rhythm is the passionate "Lights". Elements of industrial flow into the mix on "Damage". Opting for a cinematic scope is the grandeur of "Jar Of Hearts" as the song chugs along with great purpose. Acoustic variations on "Stronger" and "Breathe" show a different side of the band, one much more intimate and meditative. Closing the album off is the extended version of "Breathe" where they take a different introspective take on the song.
Through Fire makes a powerful potent album with the all-encompassing rush that is "Breathe".
By – beachsloth.com