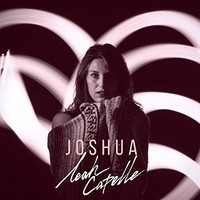 Sometimes a little goes a long way. The latest release from Chicago based singer/songwriter Leah Capelle is a three song EP entitled Joshua. Despite the apparent brevity of such a collection, Capelle encompasses vast musically imaginative worlds in this trio of songs thanks to two crucial factors above all others – the songwriting talent involved and, naturally, her vocal quality. Some have described her as a young Stevie Nicks and, while the comparison is naturally flattering, Capelle has a far more consistent bluesy gravitas coloring her singing and a signature style of tackling a song's various components. Though she has technique to burn thanks to a stellar musical education and background, Capelle doesn't sing like a technician. She has a freshness and spontaneity, instead, capable of capturing the spirit of any song with skill and grace. Leah Capelle is a rare talent and Joshua vividly illustrates why.
The title song begins the EP with a chiming guitar part and a slowly ascending melody. It culminates in a strong chorus, but one of the song's primary strengths isn't that portion, but the verses instead. Capelle crafts verses laden with significant details that give the track a powerful narrative thrust missing from most modern music. The details are delivered without an ounce of added verbiage weighing down the composition. The chief distinguishing strength of the chorus, likewise, is its straight-ahead brevity. It helps bring a lot to the overall rousing note struck during the chorus without burdening it with too much overstatement. Capelle's voice glides effortlessly through it all. Her sharp musical instincts allow her the latitude to seamlessly tailor the singing according to the song's needs.
"Out Now" achieves an impressive balance between muted delicacy and uncluttered crescendos that strike just the right now. Capelle's voice shows control maneuvering between these opposing contrasts and the lyric, while 180 degrees different from her songwriting on the opener, shows the same flair. There's a slightly more commercial air to this song than the first one, but it doesn't affect the quality. Her talent for song construction is further illustrated in the closing song "Who I Am" and a strong rock and roll influence elbows its way into the mix to great effect. The guitars are biting, but they have a tasteful attack throughout that gives the song added grit without overstating their presence. Leah Capelle belts out a passionate vocal and the unvarnished sincerity of the performance gives real meaning to an otherwise commercial effort. If her music proves nothing else, it shows there's still considerable life in her serious-minded AOR rock approach.
Joshua is as consummate of an achievement you'll hear in modern music today. The short duration of the release shouldn't discourage you – instead, Joshua has a ton of weight packed into a condensed presentation. Leah Capelle's performance has emotional variety, technical excellence, and a focus that few singer/songwriters share. Joshua's three songs will do much to burnish Capelle's growing reputation and she has taken a large and important step into her bright future.
9 out of 10 stars
AMAZON: https://www.amazon.com/Joshua-Leah-Capelle/dp/B01LYRJJI2
Jason Hillenburg