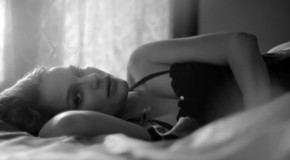 James Blake has released a stunning video for 'My Willing Heart', a highlight from 2016's acclaimed third album The Colour In Anything. He has also confirmed a run of live dates across the summer, including those in support of Radiohead.
Starring a heavily-pregnant Natalie Portman, 'My Willing Heart' was directed by Anna Rose Holmer and filmed in Los Angeles. Centring around Portman in and out of water, the visuals shift the emphasis of the track's lyrics from lovelorn romanticism to maternal anticipation with subtle monochrome images, blended together with soft-focus textures.
Released with little to no prior warning, The Colour In Anything featured diverse contributions from Bon Iver, Frank Ocean, Rick Rubin and Quentin Blake (whose illustrations formed the album's instantly-iconic artwork). In support of the record, James headlined London's Field Day, Green Man Festival, Glastonbury's West Holts stage and played a succession of instantly sold-out shows on both sides of the Atlantic (including London's Village Underground, Brixton Academy and Hammersmith Apollo). His vocal and production presence is unmistakable across 2016's other seminal records, from Beyonce's Grammy-winning Lemonade to Frank Ocean's Endless and Blond LPs.