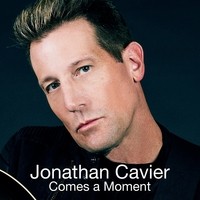 Pop music is always the center of attention, out of all the music genres, available. But why is this, well perhaps it's basic it has more relatable topics, or even because it has a better tone or groove, that people adjust to, more so than other genres. Or maybe it is just one of those genres that cannot be explained much, except it is just highly popular. In any case though, singer song writer Jonathan Cavier, has flown solo, with the release of his debut solo album called "Premier".
But before the album was even released, he went on to write and record a track called "Comes a Moment" that came out at the start of this past New Year. This track in particular not only had its song version made available, but was also made into a video version. A cinematic video that told the story of a father realizing that he must let go of his daughter as she grows up and is accepted into college. That alone, explains a lot, and can have many people from all around the world, relate instantly. Most if not all people in our world are parents, rather having kids themselves, or getting kids through an adaptation agency, there is some pair of people, who have kids of their own sake. Raising them as their own, showing them the way they grew up, and the differences between right and wrong and all the good and bad stuff, in-between of course.
Any who "Comes a Moment" delivers Jonathan's unique style of music, while it is the pop genre, there's more to it, than just that aspect. He has made this imprint on his style, his music being rather soothing, catchy, upbeat, bringing in the melodies of the acoustic guitars, smooth jazz, it even sounds like some violin melody can be heard mixed in as well. The song is just filled with various instrumentals that makes the song that more captivating and interesting. The song itself, is as said before, very relatable and touching. The backup vocals comes from Wes Hightower, who has worked with various artists as Carrie Underwood, Keith Urban, Jason Aldean, among others. Him having the chance to share his ways with Joanthan Cavier on his track that is "Comes a Moment", is really something to hear, and to see, in the form of the accompanying music video at that.
The video version that goes with this song, if you were curious was directed as well as produced by Shanice Malakai Johnson. He has worked all over, having his work be noticed at numerous festivals, Sundance's Film Festival for one, as well as others. The video was shot in Phoenix's and Sonoran's deserts out in Arizona. The scenery really brings out this compelling yet capturing visual to the lyrics flowing with the instrumentals and vocal chords, that really makes the story and topic within the song, as discussed that more meaningful.
If you had to pin point a similar form in which Jonathan Caiver's style would be a lot like Keith Urban, crossed with perhaps some George Michael, with a dash of all the other pop acts out there. It's hard to toss him alongside some of these other acts. His style does sound a lot like these artists, among others, but he does provide his own style and it is creative and fun. His style will likely gain popularity rather quickly, as he has a fandom that will surely be growing as he does. His music is inspiring, interesting, and really takes you places, after listening to it.
By: Natalie Perez