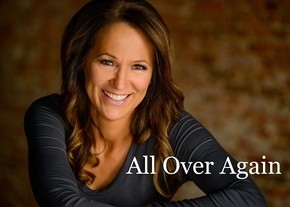 An experienced performer with a unique ability to connect with audiences, Debbie has performed in front of audiences up to 10,000, and is debuting her original song "Faithful" on a future episode of the TLC program, "Say Yes to the Dress." With a rapidly growing social media base, Debbie's fan base reaches all around the world. She earned a Featured Artist spot with Crowd Reviews on ReverbNation, is currently ranked #1 in Rochester and regionally, and has achieved rankings as high as #19 nationally and globally on the ReverbNation Country Charts.
All Over Again is what happens when a passionate and gifted vocalist waits 25 years to release her debut album. Debbie Anthony's warm and classic contralto voice delivers with heart and soul, pulling you into unforgettable songs and stories about real life and everlasting love––the heartbeat of country music. In January of 2017, on the stage of the Rochester Civic Theatre Company, Debbie celebrated the release of All Over Again in front of a packed house, accompanied by her band Level Best.
From the moving title song, listeners are pulled into the tender soulfulness of "Faithful," to the reality of life changes in "Love Sees," and the sweet reminiscence of "Anniversary Page"––a song written for those who have found lasting love throughout the ages. Listeners can also rock out to tunes such as the Shania Twain-inspired "Lucky in Love," the bluesy, upbeat "Happy Girl", and stirring "Love Wins." Honoring her childhood musical influence, Karen Carpenter, Debbie delivers a stunning cover of "Superstar."
Debbie is a devoted wife and mother who waited until her nest was empty to launch her musical career. She is an inspiration to those looking for an "encore" career. Debbie is an inspiring voice…challenging all of us to take charge of our dreams. You can read her cover story, "Staying Faithful in Love and Music," in Rochester Women Magazine (November/December 2016). She was recently featured in the Rochester Post-Bulletin, highlighting the inspiration behind her music and career (Seen & Heard, January 6, 2017). Other highlights include a feature of her entire album All Over Again on the Bill & Curt Rock Show (KRPR 89.9 FM), and coverage on Skope Music (www.skopemag.com).
"Great backing band behind stellar vox! " – ACountry.com
Debbie and her band Level Best perform a mix of originals and upbeat and poignant covers. With this talented group of musicians, audiences are guaranteed a riveting and engaging musical event.
https://www.debbieanthonymusic.com/
E – debbie@debbieanthonymusic.com