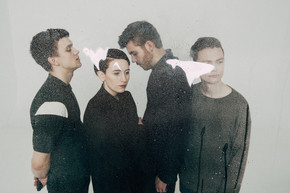 Nettwerk Records is thrilled to announce Icelandic electronic pop band Vök to its growing and diverse roster. The band will release their highly anticipated debut studio album Figure on April 28 via Nettwerk Records. Recorded with producer and Jack Garrett collaborator Brett Cox, the album follows two critically acclaimed EPs Tension (2013) and Circles (2015).
Figure sees the Reykjavík-based band taking their sound to new heights. The album is full of distorted pulses, near-whispered melodies, echoing guitars and dreamy hooks. Influenced by everything from The Weeknd and Little Dragon to existential sci-fi cinema, their ambitious first full-length spans a whole spectrum of sounds and emotions.
"Anger, obsession, negligence, death, love, happiness and hope," lists lead vocalist Margrét Rán (who began the band with saxophonist Andri Már in 2013).