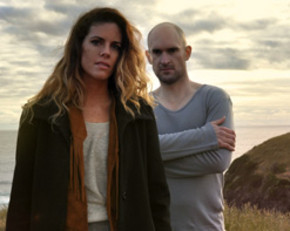 With a sound that can only be described as dazzling, epic songwriting meets an earthy, organic folk-rock aesthetic, Melbourne-based October Wish is poised to take the music world by storm and break through from "Down Under". Fronted by Matt Leffanue and Sarah Gurry, the duo has released an outstanding debut single with "Caught Up In This Lie", .a track that delves deep down into the darkest chasms of deceit.
http://www.octoberwishmusic.com/
The duo began their partnership in 2012 and has just recently prepared their first glint into their five year journey/artistic enterprise with the release of their debut album, Between Grief and Grace. While their sound may be described as a larger-than-life style of rock with textured glimmers of intriguing sonic flourishes, their stellar vocals do not conform to the classic model. Some of the dissonance employed in their song-writing adds a jazzy, even Celtic erudition. With Gurry on piano and Leffanue on guitar, sharing the vocal duties between the two, October Wish tends to stray away from classic song-writing rules and structure, and writes from an unrestricted dwelling that produces a musical model that is both mysterious, yet eerily familiar.
Representing a raw vulnerability, "Caught Up in This Lie" tells the story of friendships lost and hearts betrayed. A heart achingly humble simplicity shines throughout the video. Artfully presented, the band's uncluttered and earnest stage presence shines throughout the video. With bright colors that can be seen to represent the clarity and honesty within this video, viewers will simply be mesmerized by their compelling performance. Simply playing their instruments, the band is able to emanate all the emotion that was clearly put into this stunning visual performance. Once listeners take a listen to the emotive depth and imaginative splendor that is "Caught Up in this Lie," listeners will have both their heart and innocence stolen.