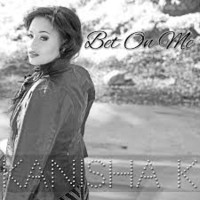 Kanisha K's chart success thus far is an affirmation that this unique talented singer has a skill set that cuts across multiple genres. She has unerring instincts for making pop songs work, but there's also a deep bluesy feel in the way she handles this particular track that elevates the song as a whole. "Bet On Me" has intimacy and great style from the first note onward. This Michigan born singer/songwriter has a talent level that sets her higher than many contemporaries while still remaining completely accessible to the widest possible audience; her songs speak to universal human experiences while retaining a strongly personal air. The collaborators she's enlisted to help her realize this song's potential do so without ever gleaning any of the spotlight for themselves and it helps make "Bet On Me" one of the new year's more impressive releases. Kanisha K is putting her best foot forward with this track and it is sure to result in another hit for her.
URL: http://www.kanishakmusic.com/
The musical arrangement is turbulent, dense with detail, but never feels cluttered. It's a slowly evolving track with many peaks and valleys that arrive at perfectly timed moments. Much of the responsibility for how the song turns out is thanks to the band's patient evolution of the song's musical themes and drumming that turns the cut with a lot of touch and a generous, artfully used amount of power. The guitar added to the song gives it a lot of extra color and punch. Kanisha plays her voice off against the guitar and drums more often than not and the three instruments come together at certain parts to supreme effect. Everything is kept sharp and on point – the song runs a hair over three and a half minutes long and there isn't a single element, even the vaguely hip hop percussion serving as a brief introduction, that sounds arbitrary or out of place.
The lyrics speak directly to the listener and never waste their time or attention. A plaintive emotional plea like this should shave off the excess words and it's refreshing that Kanisha K understands that so well. She originally conceived of the track as a love song, but her reaction to the cut gradually evolved into a much more personal statement about self determination. Despite the quality of the lyrics, the key to making them work lies with Kanisha's vocal and she maximizes the opportunity. She devotes a ton of energy and impassioned feeling to every line without ever dragging the song into a histrionic wail and the quality of her voice never wavers. "Bet On Me" is Kanisha K's best single yet and should continue building momentum for a career that seems destined for even greater things in the future. She combines superb pop appeal with bluesy emotiveness that few of her contemporaries can equal. It's a powerhouse musical and vocal performance with few equivalent tunes thus far in 2017.
I-TUNES: https://itunes.apple.com/us/album/bet-on-me-single/id1201538114
Lydia Hillenburg