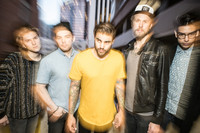 The Ricky Fitts deliver a classic cool with the pop perfection of "The Great Beyond". Fitting into a fine 80s revivalist tradition a la Neon Indian and M83, their songs are full of life. Stylistically the Ricky Fitts incorporate a wide variety of influences, from Prince's funk glam to the Weeknd's downright infectious dance-focused grooves. Right in the very heart of the sound are the smooth vocals from which all flows. Lyrics have a light poetic quality to them as they have a reflective quality to them. Volume is an absolute must for these are songs that ought to be felt as much as heard.
A gorgeous organ vamp introduces the album on the aptly named "Hello, Ricky Fitts". Things are propelled forward with the infinitely catchy rhythms of "Back to the Basics". Hyperactive to its very core is the celebratory "Into the Sun". Sprawling out with a breezy feel is the intricate detail of "Nightmare". Great with its sense of development is the grandeur of "BLVD". Sung straight from the heart is the album highlight, the optimistic work of "Believe". Nicely following this up is the inviting warm sound of "Goodtimes". On "Closer 2 U" the Ricky Fitts present a soothing love ballad. Closing the album off on a high note is the giddy "Go Me (Rollin)".
With "The Great Beyond" the Ricky Fitts create a compelling, fully formed album one full of heart and played with true passion.
By – beachsloth.com