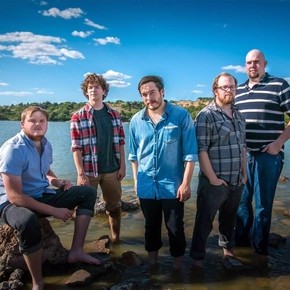 So today we are excited to check in with Fellow American from Lubbock, Texas. They guys have their new EP 'From Me to Shore' out now and it is awesome. They also have live dates all through March & beyond. Lets see what's going on with Fellow American!
Skope: Where are we talking from today and how you holding up this winter?
We're home in Lubbock, Texas right now. I'm just getting over some annoying bug, otherwise life is great. We've had a busy winter for sure. Playing some great shows; we got to mark the Dallas House of Blues off our bucket list last month and got a good response. Next stop Red Rocks! I wish…
Skope: How did Fellow American come together and how did you come up with the name?
Well in 2011, I met Clint Scott at Lubbock Christian University and we instantly hit it off. We did a lot of acting together in an organization on campus, and would always write a bunch of ridiculous songs on trips and get-togethers. It was just a hobby, but our songs would always get stuck in everyones' heads. So around 2013, we decided to take our writing a bit more seriously and found out we had a bit of a knack for working together. It helped that we had the same taste in music. We were big into Death Cab, The Fray, Local Natives, Arcade Fire, Band of Horses, Relient k, and a bunch of 90s music. It's funny because Clint and I were average at best at our instruments (he plays keys, and I play rhythm guitar), but we still got great responses from our coffee shop shows and original songs. In 2014 we offically became Fellow American and added drummer Kyle Cotton, who was a childhood friend of mine. We were in a TERRIBLE punk band together in Junior High. The idea for the name came from a random speech in an episode of the show, Glee, that Clint was watching at the time. There's no underlying, deep story behind the name, it just sounded important. After going through a few different lineup changes, by 2015 we became complete with the addition of bassist and fellow LCU classmate Elliott Metherd, and one of my friends from a church camp I worked at, Grady Benton, on lead guitar. We've had a lot of people help us get this far. My dad, Scott Faris, Randall Jackson, Erika Lemmon, and Shawn Lamm & his crew have all been a constant source of support and guidance and we wouldn't be where we are without them.
Skope: What is life & the music scene like in Lubbock, Texas?
Lubbock is a volcano of talent. It's a shame that so few know about the amazing musicians here, but at the same time it's like our little secret. There are so many great venues, studios, and support systems in Lubbock and they're all growing rapidly. We recently had the honor of being selected by past and present members of the Texas Grammy Board to represent our city on Lubbock Music NOW, a compilation disc displaying what the locals here are capable of. Our song, Curfew, was chosen. It's crazy because we are nowhere near as talented as the names beside us on that release. It should be released digitally soon, so you can grab it online. Lubbock is known to be "the friendliest city in America" and the crowds have definitely proved that stereotype true in our opinion! As far as genres go, country, singer/songwriter, and hard rock are the popular ones around these parts. So if we're not big time in a year or so, we'll just sell out and go country. Musical integrity is something that has never mattered much to us. Kidding. Lubbock is great. I've lived here my whole life and if there's anything keeping me here, it's the incredible people.
Skope: Your EP is out now, how has the response been and how long were you writing/recording the music?
We've received nothing but positivity from sources online and from fans alike. Oh except for one guy named Lars. The EP is called 'From Me to Shore' based off a few lyrics on the record. The whole album represents a journey to us and incorporates many water and traveling themes so the title just fit to us. The record has opened up several doors to us. We've had the privelege of playing with Judah and the Lion (currently on tour with Twenty One Pilots), our songs have been picked and awarded in several online competitions, and we've hand delivered our record to many of our strong influences including Taylor David Rice (Local Natives), Chris Carrabba (Dashboard Confessional), Matthew Thiessen (Relient K), Emory, and a few more. A couple of the songs off the record (Monkey in the Middle & West) were written back in 2011 and 2012 when Clint and I were just starting off. The others were written in 2014. Curfew is the track on the EP that was written most collaboratively between everyone in the group, and has received the most attention. It was a new way to write, because beforehand most of the songwriting was done between me and Clint. Felt like magic writing that one. The Current was written in the studio and thrown down last minute. It wasn't supposed to make the cut but ended up sneaking through. I think it's my wife's favorite, so in the end it was a good call to include it. In March 2015, we started recording at Amusement Park Studios here in town with Scott Faris who is an amazing producer and mentor. We finished in late Summer and released it in November 2015.
Skope: What is coming up for Fellow American and where you @ online?
We've got huge things coming up. Right now we're working on a music video, and I think it's going to turn out pretty rad. We just got selected to play our first music festival in April! Roswell. Hopefully we'll gain some intergalactic fans. And of course the plan is to release some new music this year. We've received pretty good responses to our new material, so keep up with us online to find out…secrets…we're also starting to plan some kind of tour. It has been an incredible year for us indeed. I know interviews often include exposing your victories and accomplishments, but every one of us are completely aware that we wouldn't be where we are without countless people encouraging us, and spreading the word. We are very humbled, and wish we could repay everyone who has supported us on our journey thus far. Thanks for your time!
http://www.fellowamericanmusic.com/
http://www.facebook.com/fellowamerican
https://www.sonicbids.com/band/fellow-american/
We're on Instagram and Twitter too: @followamerican