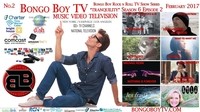 Gar Francis gives Bob Dylan's classic "Rainy Day Women #12 & 35" a nice hazy update. Featuring fuzz-out frantic guitar rhythms, the song possesses the same playful spirit as the original. The way the song unfolds stays true to Bob Dylan's vision while offering up something completely new and exciting.
A sense of intimacy defines Survivorman Les Stroud's tender "Arctic Mistress". Elegant arrangements strike the right balance between chamber pop and folk. Lyrics focus on the beauty of the natural world and how it can restore a person.
Wonderful dreamy glitch effects mark the beginning of Dos Floris' "Water". Serene and pure the song's glistening textures are simply stunning. Possessing elements of gospel and modern electronica everything about the song taps into a calming caressing atmosphere.
Tremble's "Want To Want Me" takes RnB's spirit and gives it a soothing style. Beats hit with an emotional impact. Melodies waft by with a true sense of purpose. Easily the highlight of the track is the assured vocals whose gentle, warm spirit are undeniable.
"Nothing Is Forever" shows Michael Resin tapping into a sense of tragedy. Symphonic in scope the cinematic quality of the sound gives it a geometric sense of precision. Vocals strike the right balance between the detached and heartbroken.
Playful and pristine is the joyous work of Trevor Wesley's "In This World feat. Raven Felix". Hip-hop and pop work together in perfect harmony. Full of passion the song is one infused with great optimism.
Delivering an early 90s ambient sound is the chilled-out vibes of Les Fradkin's "Reflections of Love". Synthesizers are layered with great care painting a portrait of true peace. Melodically rich Les Fradkin explores vast swathes of texture and sound.
By – beachsloth.com