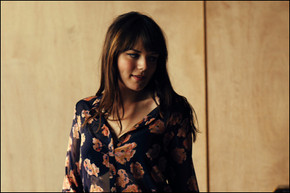 Just ahead of the release of her debut LP Alice Jemima, that is due out March 3rd, 2017 via Sunday Best, English singer Alice Jemima is thrilled to share the artful video for her viral cover of Blackstreet's iconic track "No Diggity". Watch it HERE. The single, which appears on her debut self-titled album, was her initial breakthrough single which went viral and now stands at over 3 million plays. The video was shot in London and features freestyle skate crew High Rollaz.
In Jemima's own words: "I first chose to cover 'No Diggity' after hearing Chet Fakers striped-back version of it – but I wasn't planning to do anything with it, I was just playing around in my studio. But then I played it to my family and friends and they loved it, so I put it up on my Soundclound. I definitely didn't expect it to get the amount of plays that it did in such a short amount of time, I'm still completely bowled over by that, and this is why it'll be on my album."
Furthermore, Alice Jemima will make her US debut next month at SXSW, her complete performance schedule is forthcoming.