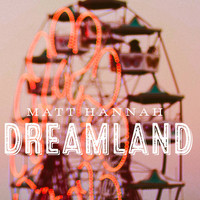 The second album from Michigan native and Minneapolis based singer/songwriter Matt Hannah, Dreamland, further elaborates on the enormous talent and promise revealed by his 2014 debut Let the Lonely Fade. He's earned favorable comparisons to Townes Van Zandt and his songwriting is roundly hailed as ranking among the best modern exponents of the singer/songwriter school working today. The new ten song collection is united, much like a novel or movie, by a single overarching theme. Hannah, over the course of the album's songs, explores the relationship between what actually happened as opposed to what we actually choose to remember instead. Dubbing Hannah's songwriting as modern folk isn't a disservice, but it shouldn't confuse listeners that Hannah's musical approach is the typical coy, quaking folk singer. The material on Dreamland has a lot of grace, but it likewise embraces gritty emotions and musical directness that promises to quickly connect with listeners.
BANDCAMP: https://matthannah.bandcamp.com/track/dreamland
The album opens with its title cut. This is song is, at its heart, about consciousness and the passage of time, but it examines it in a micro rather than macro way. The lyrics have a plain-spoken eloquence never biting off anymore than they can chew and the lines are tightly written enough Hannah has no problems handling the phrasing. The acoustic guitar work is relatively straight ahead and simple with minimal percussion accompaniment and ghostly wisps of steel guitar floating past. "Broken Hearts & Broken Bones" has a little more rock muscle thanks to some boisterous blasts of electric guitar, but the base of the song is Hannah's big acoustic guitar chords pumping underneath. The stripped back drumming keeps things moving in a straight line with just enough swing to give it a little pizzazz. Listeners return to much more lyrical territory on the track "Banks of the Mississippi". There's a hazy drum beat keeping time for Hannah's guitar and vocal work, but it's those last two factors contributing most to the song's success. This is an original composition, but Hannah's songwriting skills are such that tracks like this are surrounded with an unexpected timelessness that makes them sound like they could have been written a hundred or more years ago.
"The Night Is My Home" opens with much of the same delicately wrought melodic grace so far defining this release. Hannah's songwriting is full of significant detail without ever risking obscurity and his more poetic moments are tempered by direct language that never shoots over the listener's head. The haunting strains of steel guitar filling the instrumental breaks are another high point for the performance. Some light keyboards are festooned in the background of "Different Kind of Light" while Hannah's acoustic guitar once more adopts a straight ahead approach rather than weaving the delicate melodies making so many of the other tracks stand out. "Morning Song", when taken along with the opener, makes a memorable bookend for this album. Matt Hannah has created a full length album with rare unity and a high degree of musicality with only a few instruments, a relatively small band, and a keen-eared idea about how the track listing should flow. This is his finest recording effort yet.
9 out of 10 stars
TWITTER: https://twitter.com/matthannahmusic?lang=en
Jason Hillenburg