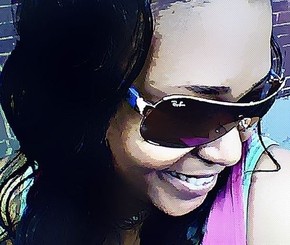 Living out her faith & life through Christian-inspired music and charitable acts is her chosen path that has led MsTish! here to this exact moment in time. Born Latisha Nicole, MsTish! is taking Rap/Hip-Hop to a whole new spiritual level like nobody has ever seen before. The self-proclaimed "First Holy Lady of Hip-Hop" is causing an awakening within the hip-hop community while also serving as a true vessel for God Himself. MsTish! embodies positivity and stresses that we need to Pray and "bring back more LOVE!". Whether you're thinking Revelation or Revolution, MsTish! is clear when she states a "Spiritual War" is happening as we speak. Hope you enjoy getting to know this bright, wonderful soul from Memphis who is full of Spirit, Hope & Promise!
J Rae: So tell us more about The First Holy Lady of Hip-Hop and how this idea of making Godly Rap came about?
MsTish!: Honestly, It was prophesied over my life by a Pastor here in Memphis, Tennessee in 2000. I have always had a POWERFUL voice to sing, and when I recorded my first Single in 1997, my Classmate "Bo" taught me how to RAP! My First, Official Holy Hip-Hop Single was released in 2006 "Comprehending Knowledge" – I was rapping and singing ALL my parts. (It was Amazing!) The producer, Joey Anderson, was in SHOCK as I left the booth, but I was too, because at THAT Moment I KNEW I was Ms Tish! (First Lady of Holy Hip-Hop). I figured if I could take the Music that our YOUTH listens to today and flip it to HOLY WORDS that I could literally IMPLANT SEEDS of Spirit & Truth into EVERYONE who listens to my songs. The WORD of GOD comes out of me like a SWORD without a SHIELD when I hear CERTAIN Tones.
J Rae: I can tell that you have a very strong connection with God after reading your Bio and wanted to ask if you could describe this powerful relationship in more detail? And have you always been a devout woman of faith and follower of Jesus Christ?
MsTish!: I was REDEEMED from The ENEMY'S Hand! I have the TYPICAL Celebrity Background (adopted – abused). I was dealt a VERY STRONG HAND of REJECTION in Life. I have ALWAYS had ANGELS and HELPERS from the KINGDOM around me; this alone strengthens my relationship with GOD. I wasn't ALWAYS like I am now. It took LIFE and the REJECTION of The WORLD to let me KNOW – I AM CHOSEN! – When I accepted that I was CHOSEN and really lived the life of a CHOSEN VESSEL – The Lord started increasing my GIFTS and now I'm FOREFRONT on the BATTLEFIELD…..
J Rae: You're a self-proclaimed "Soldier of Love" and so what does this statement mean to you personally? And how do you incorporate this concept into your daily life and your music?
MsTish!: "Soldier of Love" – This means Regardless of Pain – LOVE like you have NEVER been HURT! Personally, I had to forgive A LOT of people and the nature of things I had to forgive made me KNOW and feel that ONLY a "SOLDIER of LOVE" could do it!
Everyday someone offends me and everyday I FORGIVE them – Simple Incorporation into my daily life….My music has a SEED of LOVE and you feel it when you listen to my songs.
J Rae: How long have you been performing under the name MsTish! and has music always been a big part of your life?
MsTish!: I've been performing under MsTish! Since 2000. I started singing when I was a little girl in church when I was 5 – so yes, MUSIC has always been a big part in my life. When I see someone from the past, they say: Girl, can you still sing like you use to? – I smile and say yes, and rapping now too (lol). The greatest challenge I face is being a woman who raps, sings, writes, and produces my tracks! I think that alone makes me strange; in a unique way.
J Rae: I see that you're currently residing in Memphis and wondering how long you have lived there and are you enjoying the overall scene & vibe? And I have to add that I am dying to visit Memphis to stroll through Beale Street and pop into the legendary Sun Studio among many other hot spots. With you getting to live right in the thick of all of this rich music history, what are some of your favorite locations and why?
MsTish!: Memphis itself is historical. Just going to the grocery store, you might see Yo Gotti, or when you go to Beale Street, Drake might be making a music video. MEMPHIS is a place you would never NOT want to visit in your lifetime! So much HISTORY! I have been here off and on since I was 15 (Destiny I guess) – Maybe when you come visit I can meet you and we can take a tour of the city and have a nice meal (soulfood).
J Rae: Are there any rare or special gems off the beaten path of Beale Street that someone should check out if visiting the city of Memphis?
MsTish!: ALL I will say is EVERYTHING DOWNTOWN is HISTORICAL — PLEASE bring your camera when you visit MEMPHIS (HOME OF THE BLUES)
Hard Rock Cafe
Stax Museum
Royal (Willie Mitchell) Studio
Corlettas
Marlows
BB King Restaurant
J Rae: Staying with Memphis, I am aware that crime, and in particular murder, has been an ongoing issue for this city but would like to ask you what people are doing in the community to help combat this problem? Have you seen improvements in this area and what else could be done to keep Memphis safe?
MsTish!: I have to laugh before answering you, honestly everyone is arming up in Memphis and most are taking the law into their own hands! I shelter myself, and rarely listen to the news. There is nothing anyone can do about the crime, it's a SPIRITUAL WAR going on…when you ask me about improvements…My Answer: Revelation is about to be fulfilled!!! — People need to PRAY!!
J Rae: I noticed that you have five singles currently and last year won many awards through Akademia. Congratulations on that first off but have to ask what do you think caught their attention at Akademia and do you think this Holy Hip-Hop is just the start of bigger things to come for you, this genre and the planet? Do you sense a powerful movement coming soon?
MsTish!: THANK YOU! – I honestly think me being a woman is what caught their attention and everyone else who learns who I AM and hear my music. THE TRUTH is very CATCHY (You think?)… Akademia was very impressed with my overall skills. I was nominated for Artist of the Year in 2015. Akademia was very impressed with "Get Yo Praise On"! too– They said I use modern hip-hop to reach out and spread the message of the gospel; a combination that is contemporary, fresh, and meaningful for the next generation.' With PURE TALENT and Obedient PROPHETS, this world will BEGIN when it ENDS soon….
J Rae: You stated in your bio that "There is a WAR and I feel I am appointed to the FRONT line". Strong and direct words there but was hoping you could tell me and the loyal Skope Army what you mean by that exactly? Are you referring to an actual, all-out "WAR", spiritual battle or both?
MsTish!: A Spiritual War: For we wrestle not against flesh and blood, but against principalities, against powers, against the rulers of the darkness of this world, against spiritual wickedness in high places. The battle for GOOD and EVIL has started and certain people have been put into position, as with any Battle.
J Rae: With the Rap game in trouble due to lack of originality and creativity, how can MsTish! and others rejuvenate and breathe new life into this genre that was once a major powerhouse in the wide world of music?
MsTish!: I really feel that technology will lead the music industry in the near future. Artists should level up what talents they have so they can meet technology and its music! — Giving POSITIVE ENERGY is what we are here to do, and what better way to do it — MUSIC!!
J Rae: I grew up listening to Rap music back in the 80s and feel that this is the Golden Age of Rap/Hip-Hop. Do you agree with this statement and do you feel that Rap/Hip-Hop music, on the whole, can ever match or come close to the magic created during this time period?
MsTish!: NOTHING can ever come close to the magic music created during that time period. Music was pure. Not a lot of profanity and nastiness, just pure energy. We need to bring back more LOVE!!
J Rae: I feel that this world needs love, God and positivity more than ever today and so how can I, you and others help spread this Word everyday? In the words of Ol' Blues himself, Frank Sinatra, let's "Start spreading the news" and not let up!
MsTish!: My ministry is directed towards the youth. What is needed is a creative approach to the "evangelization" of young people, where they will be encouraged to serve God! A point of re-conversion where a young person grows as a man or woman of God, where he/she will be encouraged to take responsibility and exercise his/her leadership skills.
J Rae: I couldn't help but notice that you are also the founder of Women's Empowerment, an organization dedicated to self-empowering women. Major props and respect as that's a noble cause you're a part of. May I ask how Women's Empowerment started and what are the roles of this organization? How many people are involved?
MsTish!: My company (Angelic Productions) started Women's Empowerment, because I was a victim of Domestic Violence and it was my way of giving back and teaching women who are dealing with this issue now, that there is HOPE! We go by the hotels that I once was taken to for domestic abuse , and we give away gift bags with things in it that the women need to survive without going back to the home. We Drive around at night and feed the HOMELESS here in Memphis (Night Angels) – it's so much I do. I have a small staff of 4 (family). I work off donations.
J Rae: Can you leave us with an insightful prayer that could have the power and potential to invoke monumental change for the better?
MsTish!: Heavenly Father, we bow in worship and praise before you. We surrender completely and unreservedly in every area of our lives to You Father. We take a stand against all the workings of Satan that would hinder us in our prayer life. We recognize that You are worthy to receive all glory and honor and praise. We renew our allegiance to You and pray that the blessed Holy Spirit would enable us in this time of prayer. We are thankful, Heavenly Father, that You have loved us. Heavenly Father, open our eyes that we might see how GREAT You are and how complete Your provision is for us. We are thankful that victory is already won!
http://www.mstishlive.net/
http://mstishlive.simplesite.com/
By Jimmy Rae (jrae2@att.net)