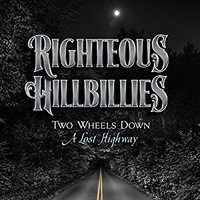 The crucial third and fourth albums. People like to trumpet the all-consuming importance of sophomore albums and they have a point. Bands and performers, after particularly scintillating debuts, can often find themselves groping in darkness attempting to create a worthy follow-up. It's the third and fourth album, however, that often determines staying power. Once a performer or group clears the second album hurdle, a new obligation arises. They've unveiled their template sound, they've established their songwriting identity, and now the question becomes if they will build on that foundation with an eye towards posterity or will they instead consolidate what they've already accomplished and settle into a pattern of offering more of the same. Righteous Hillbillies, with their fourth album Two Wheels Down a Lost Highway, conclusively prove they are far from content with spinning their wheels in the mud. This ten track release provides traction for the future.
URL: https://righteoushillbillies.com
The album's first track, "Rollin'", gets things started with great feel. Producer Brent James has performed a real service to the band's performances and songwriting by framing their music with such attention to balance – listening to these tracks is quite akin to experiencing a "live" performance. Nick Normando's slide guitar pierces through the mix with warm bite without ever being too omnipresent and vocalist and chief songwriter Brent James puts the band through its paces with an equal measure of restraint and emotion. Chris Bartley's piano reelin' and rockin' just below the mix is another key component in the band's success. Fiery Hammond organ lines trade off volleys of sound with the guitars on the memorable "Throwing Stones" and James rips off a killer vocal much more in keeping with his ballyhooed status as a real blues rock belter. He never verges on overkill though and that's important – too many would-be singers in this idiom lay it too thick, mistaking histrionics for emotion, but not James. There's a much more rugged, rough and ready approach to this song than the opener, but it's perfectly in keeping with the band's aesthetic.
The title cut reaches a little further. The songwriting here looks much more to set a scene and there's certainly a stronger suggestion of the personal here spinning it in a different direction. James and the band are more than up to the challenge. The song shows a great command of dynamics moving from muted passages to some ferocious guitar and rhythm section work, but it's James standing out most here. His impassioned vocal really makes this one shine brighter than it might otherwise glow. The blustery guitar riffing on "Drama Zone" gets some great support from organ, though some might wish it occupied a more equal place in the mix. It does provide some great color in the fills between guitar eruptions. The finale "Rock Salt & Nails" is an acoustic closer with ample blues laced through its changes and an eminently soulful vocal from James. Two Wheels Down a Lost Highway is Righteous Hillbillies' finest recorded moment yet and the reason is because they've struck upon a way of consolidating their songwriting strengths while finding a way to expand their purview. This is a guaranteed winner for anyone who love fresh variations on tradition and bucket of blood blues rock.
9 out of 10 stars
AMAZON: https://www.amazon.com/Two-Wheels-Down-Lost-Highway/dp/B01JJB8B0G
Jason Hillenburg