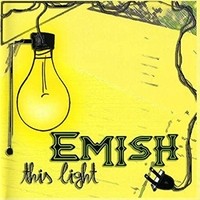 Self described as "high powered rock with an Irish heart", the four piece Emish stands as one of the most individual and inspired acts working in roots music today. The idea of labeling them, however, will make discerning listeners hesitant. The music transcends labels manifesting a spirit that has nothing to do with genre and, instead, bristles with attitude and lyricism alike. Their mastery of traditional music forms is clear, but the performances are never so studied that Emish succeeds in draining the life from them. Their 2007 debut collection This Light sports thirteen songs mingling instrumentals, traditional covers, and original compositions into a compelling album. These New York natives bring all of this together with immense musicality, an utter lack of self-indulgence, and a cohesiveness keeping everything balanced.
FACEBOOK: https://www.facebook.com/emishmusic/
The romping opener "Fields of Athenry" features the expected Celtic feel and a particularly dramatic vocal. The tempo suggests flight and the lyrics back that up creating a subtle seamlessness in the song, but it's the skill shown by the vocals in exploiting the storytelling aspects of the lyrics. Christy Halligan Brown's urgent fiddle in "An Amaid" alternates from frantic passages slashing across the surface of the song into uptempo but wonderfully melodic phrases that shoot past like quicksilver. Bobby Curreri's exquisitely low key guitar playing crochets delicate melodic patterns beneath the fiddle and flute on "Murder in the Jar". Brown and flutist Jennifer Curreri take a very considered approach to the track and it soon assumes an appealing elegiac air. The title song has a memorably propulsive authority drummer Tom Muro greatly enhances, but Bobby Curreri's intense, quavering vocal really taps into the physicality and emotion of the song. There's such yearning in this track that's impossible to ignore.
The delicate and haunting "Heart on a Shelf" features Bobby Curreri's voice up front, but the ghostly backing vocals really make this performance great. This is a patient offering that achieves its effects through evocative use of melody rather than relying on some pose or other form of gimmickry. Curreri steps away from the microphone on "Ride On" and switching out a male voice for a female voice comes at a welcome time in the track listing. It has atmospheric touches it shares with some of the finer earlier tracks and there's evidence of the same storytelling strengths distinguishing the earlier gems. The loose, confident swing of "Old Copperplate" gives Brown's fiddle a great anchor to play over. This Light's penultimate track, "Run", musically embodies its title quite nicely and sees Bobby Curreri's return to vocals for another story about the outlaw/outsider that he sings just right. "Freefall" ends This Light with a powerful instrumental that shows off the band's across the board versatility in one brief track. It's quite a move to close the album in such a way but it's the final proof listeners need that Emish follows their own path.
8 out of 10 stars
AMAZON: https://www.amazon.com/dp/B000RNUHLW
Jason Hillenburg