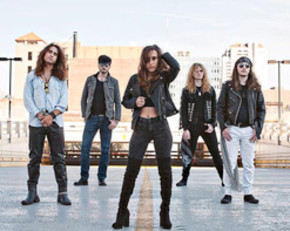 Lawless Hearts continues their blitzkrieg of pure, classic, hard rock and roll with their latest hit, "All My Troubles," from their newest album, Bring Me The Enemy. Combine the ostensibly bohemian, beatnik lifestyle indicative of a more spiritual presence than most people align with typical rock music, that the band abides by with their merciless, authentic hardcore shredding, and you have a contrasting and intriguing result. Their music can only be described as "music with a heartbeat." We first brought you the sumptuous, vice-filled, hair-rocking metal that is, "Creatures of Habit," and after that, "If I Have To," with its bad-to-the-bone, non-apologetic attitude. Buckle-up, because Lawless Hearts has soared far above anticipations with their new, raw tune, "All My Troubles."
Asserting a dream to bring forth together their timeless and new age appreciation to make something completely their own, they are smooth sailing towards a dream much bigger than themselves. So far releasing two singles from their new EP, Creatures of Habit, over the radio all over the world, the Jacksonville-stationed band has had various opportunities arise including having played Austin's notorious SXSW, and successfully touring Europe with stops in Germany and Holland. More excitingly so, stay tuned for Lawless Hearts' upcoming album, Bring Me The Enemy, coming soon.
With help of Tim Daust's creative direction, the video for "All My Troubles" is filled to the brim with a hypnotic melody about the frantic desire for some sort of sensation, even if it is pain, to cope with life's quandaries. This song will transport you to a precarious place deep inside your soul with its mighty guitar riffs and outstandingly exposed vocals by lead singer Alex Marie. The video takes place in the classic bar setting, illustrating Marie as a woman unable to resist the men who are her seemingly only way to deal with all the stuff life chucks her way. As the video moves along, it is clear through a nearly numb Alex Marie, that this song describes a specific type of pain and loneliness that its viewers will have little difficulty developing empathetic pangs not only for her, but for their own struggles and demons.