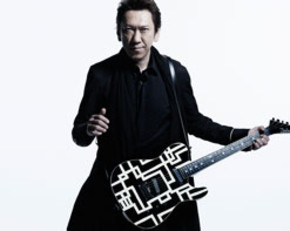 Japanese superstar Hotei has just released the video for his new single 'Walking Through The Night', which features the iconic Iggy Pop on vocals. 2016 marks Hotei's 35th anniversary in music and to celebrate this milestone, Hotei has been touring Japan extensively including over 50 live dates ranging from intimate club shows, to a free open-air concert in his hometown in front of 25,000 fans and will be ending the year with his 31st performance at the Budokan in Tokyo on December 30th, with a very special fan request show.
http://www.spinefarmrecords.com/uk
Not one to rest on his laurels, Hotei has been focusing on his international career and this year sold-out his first-ever LA show at the legendary Troubador, and the Highline Ballroom in New York. He also guested on Italian rock star Zucchero's latest album and performed with him recently in Verona and at the Royal Albert Hall.
Heralded by Time Out as "iconic", and a genuine superstar in his native Japan where he has sold more than 40 million records, Hotei is best known internationally for his Kill Bill theme 'Battle Without Honor or Humanity' and is sought-after as a collaborator both in the studio and on stage.